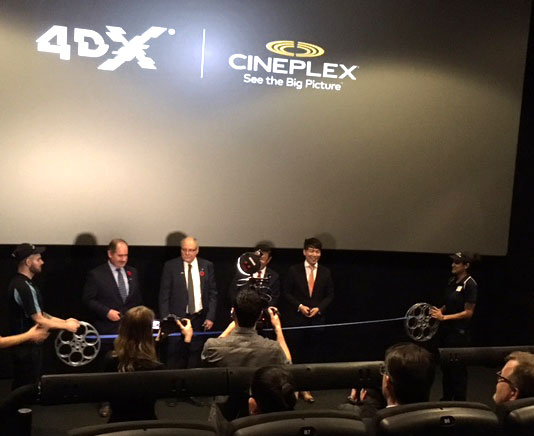 The first 4DX theater opened today in Toronto at Cineplex Cinemas Yonge-Dundas and VIP. We were invited, along with other members of the media, to experience this new way to enjoy movies.
As more people stream movies at own home, filmmakers and theaters need to find a way to make going to the movies more special in an effort to entice people out of their homes and the 4DX experience is definitely a major step in that direction.
The experience offers not only seats that pitch, roll and heave, but there are air and water shots, leg ticklers, scents, back and bottom shakers, fog, wind, lightening, bubbles, rain, warm air and snow.
The movie we were invited to see was Doctor Strange, and the experience, besides being in 3D, included vigorous shaking when a car went off a cliff, wind as the car was speeding along a winding road, snow to match what was on screen, mist during a rain scene and what felt like rope wrapping around your legs when the same thing was happening on screen. When I later examined the "leg tickler," I found it wasn't long enough to actually wrap around legs, but when it occurred in combination with the action on scene, I nearly jumped out of my seat.
I found myself grinning several times during the movie as the seats were rolling and a gentle mist was spraying (there's a button on your seat if you'd rather have the water turned off) because it was just such an amazing feeling and other times, I was fully immersed in the action happening on the screen. It's a lot to take in, but I grew used to the movement (it's not constant, but often enough to make you feel it's worth the extra money for the ticket) and I hope to see a lot more movies in 4DX.
The first public showing is Doctor Strange this evening at 5:30 p.m. There are so many special effects and so much action in Doctor Strange that made it the perfect movie for this experience. It really makes you feel as if you're part of the movie.
Byung-Hwan Choi, COE of CJ 4DPLEX said, "Feedback from audiences in Los Angeles and New York City has been overwhelmingly positive and we're certain that Cineplex Cinemas Yonge-Dundas and VIP will become a prominent entertainment hub in the city."
Here's hoping the 4DX Cinema Experience will soon be available in cities all across Canada. ~Alexandra Heilbron
4DX Pricing:
2D Film in 4DX Auditorium:
General: $21.99
Child: $17.50
Senior: $17.99
Tuesday: $16.50; SCENE cardholder: $14.85
3D Film in 4DX Auditorium:
3D General: 24,99
3D Child: $20.50
3D Senior: $20.99
3D Tuesday: $19.50; SCENE cardholder: $17.55