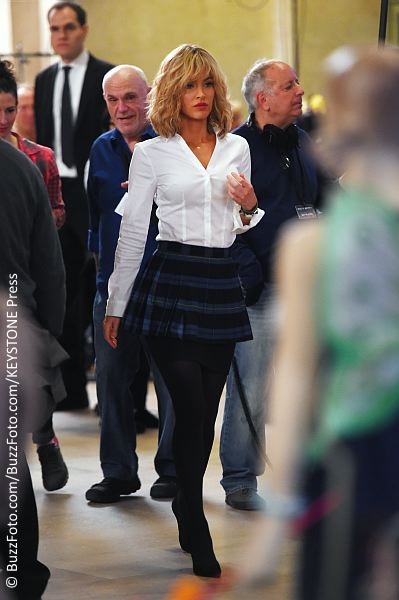 Teenage Mutant Ninja Turtles 2 is set for release in 2016 but the promo train has already left the station. While Megan was caught channeling April O'Neil on set, the film's producer Michael Bay teased fans with a look at Casey Jones, played by Stephen Amell.
Photos of Megan Fox on set proved her to be barely recognizable in an '80s style blonde wig, thick glasses and a schoolgirl outfit. Cleary, Ms. O'Neil has gone incognito to secure a juicy story.
Earlier today, Michael used his Twitter account to give fans a first look at hockey-mask-wearing, baseball-bat-swinging Casey Jones. The photo shows Stephen in full costume, complete with mask and stick in hand. The character of Casey Jones appeared in the '90s version of TMNT and he is usually April's love interest.
Megan Fox, Will Arnett, Tyler Perry, and Stephen Amell are just a few names attached to the summer blockbuster. Will Arnett will be returning as Vernon, April's cameraman. Newcomers Tyler Perry and Stephen Amell will play scientist Baxter Stockman and vigilante Casey Jones respectively.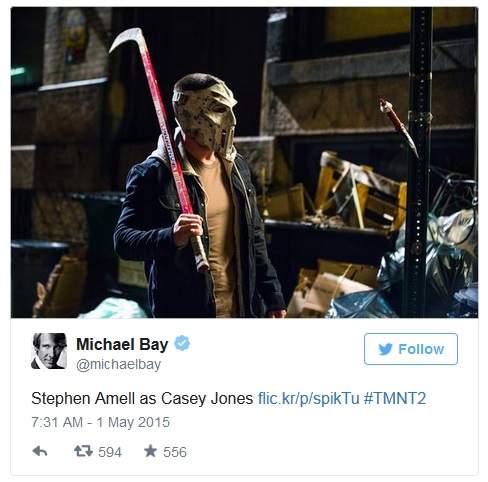 June 3, 2016 is the set release date for the martial art mutants from New York City. Stay tuned for more updates. ~ Andree Rhooms