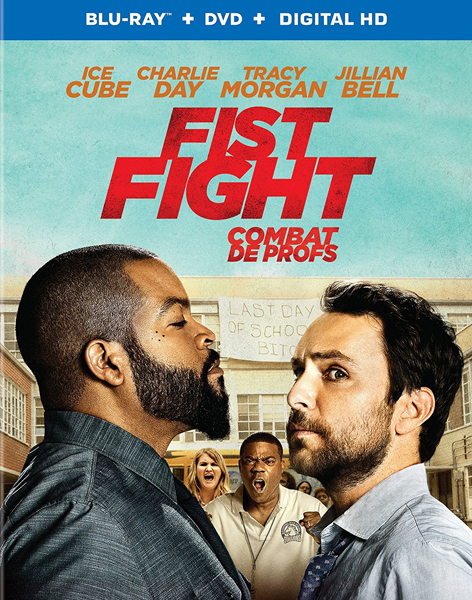 It used to be that schoolyard fights were a typical occurrence among teenagers who couldn't seem to settle their arguments the right way. But Fist Fight shows that even teachers sometimes need to settle things like their students.
The film stars Charlie Day as high school English teacher Andy Campbell. A responsible "nice guy" and family man, Andy has a child on the way with his wife. But on the day before summer break, his school is purging its departments and he's worried he could be next on the chopping block.
Mr. Strickland (Ice Cube), on the other hand, is his take-no-guff colleague, respected and feared (mostly feared, though) by his students and fellow teachers. Tales of his rage are legendary, with some students and staff telling tales of him as an ex-marine, ex-cop, and/or ex-gang member with a temper.
When Andy crosses paths with Strickland and subsequently incurs his rage for getting him fired to save his own job, Andy is invited by Strickland to settle things mano a mano, after class, in a schoolyard fist fight.
Andy spends the rest of his day trying to figure out how to get out of the brawl, which includes taking tips from the other scatterbrained teachers, and even trying to bribe a student. But Andy soon realizes that his only option is to finally stand up to the bully, proving nice guys don't always finish last — though, they might finish with a few bumps and bruises.
Fist Fight is a comical, vulgar reversal of typical school convention where it's not the students who get caught up in fisticuffs after an argument. Charlie Day and Ice Cube play well off of each other as total opposites. And their fellow funny colleagues like Coach Crawford (Tracy Morgan) and Guidance Counselor Holly (Jillian Bell) — who could probably use some counseling of her own — offer even more laughs.
While the film did have some funny moments, none of them were truly side-splitting. I went in with higher expectations, especially because Day is hilarious in his hit TV series It's Always Sunny in Philadelphia. This also seems to be a regular character for Ice Cube — he always plays the tough guy everyone is scared of — and he did well in the part, so no surprise there.
For me, it was the co-starring characters played by Morgan and Bell that made the movie most enjoyable. Their antics and, shall we say, "unique" commentary on Andy's predicament was the main source for most of the film's funniest moments.
Overall, the film was mediocre but generally enjoyable — good for a quick chuckle and a solid reminder that, chances are, your day at work or school wasn't as bad as both were for poor Andy. ~Alexa Caruso
Special Features:
Special features for this film include a selection of deleted scenes as well as a presentation by the film's cast and crew about the benefits of filming in Atlanta, Georgia.