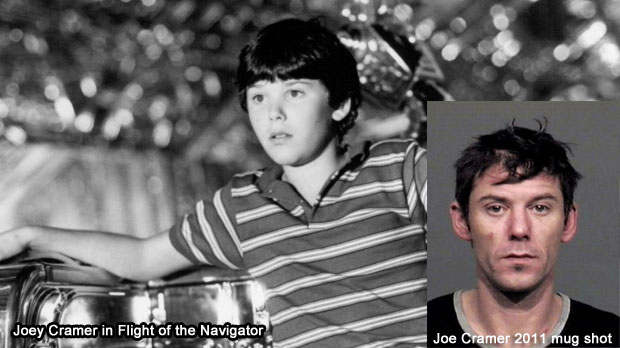 A man who robbed a bank in Sechelt, B.C. last Sunday has been identified as Deleriyes Joe Cramer, 42, who starred at the age of 12 in the 1986 Disney film Flight of the Navigator.
Cramer appeared in several motion pictures at the time as Joey Cramer, including the 1984 flick Runaway with Tom Selleck. His final film as a child actor was the 1987 TV movie Stone Fox.
The bank heist took place on Saturday at about 3 p.m., but he escaped before the police arrived on scene. During the robbery, he wore a wig, bandanna and sunglasses, but police were apparently able to identify him and on Sunday he was arrested by the RCMP.
Cramer is known to police, having previously been arrested in 2011 for committing several fraud-related crimes in the Lower Mainland and Fraser Valley.
He has also used several aliases, including Joe August Cramer, Joe August Deleriyes, Joe August Leighland, and Joe August Deleriyes Cramer.
Cramer, who was born August 23, 1973 in Vancouver and lives in Gibson, British Columbia, has been charged with robbery, disguise with intent to commit an indictable offence, failing to stop for a peace officer and dangerous operation of a motor vehicle. He appeared in court on Tuesday and is scheduled to return on May 10, 2016.