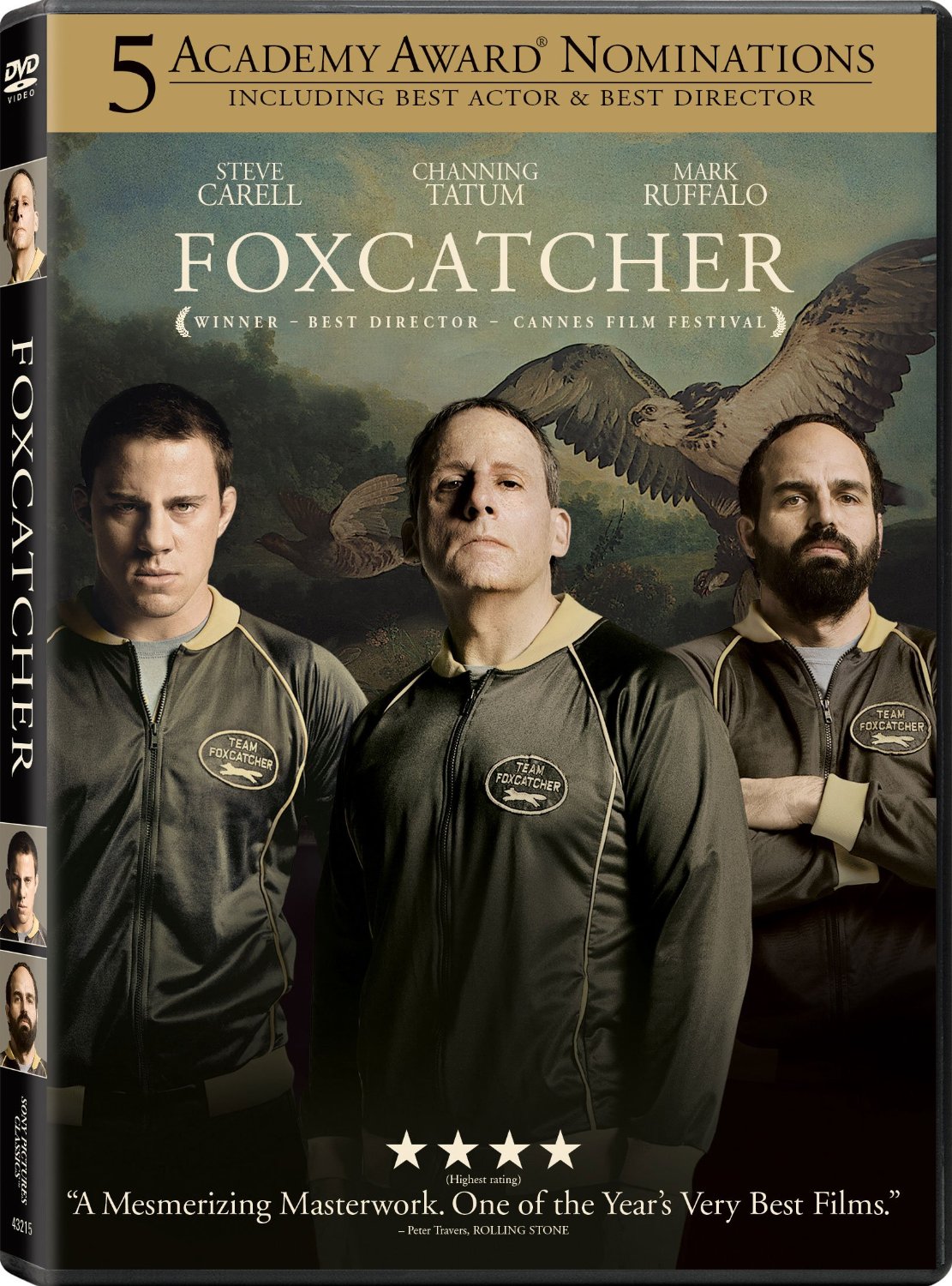 With awards and accolades for company, Foxcatcher has received well-deserved recognition, including several Oscar nods, since its release. This sports psychodrama is based on real-life events that are portrayed with less dialogue and more action, capturing the eerie and grim themes in the belly of this story.
The story follows Mark Schultz (Channing Tatum), a young wrestling champion who won Olympic gold three years earlier but now finds himself giving lectures to elementary school children to produce interest in the sport. He practices wrestling with his brother Dave (Mark Ruffalo), a well-loved and protective family man who gives as much time to his family as to his work. When the eccentric blue-blooded millionaire John du Pont (Steve Carell) approaches Mark to join his Foxcatcher training program at his Pennsylvania estate, Mark jumps at the opportunity to train at a better center and be compensated with shelter, food and a nice hefty paycheck.
John tries to get Mark to convince Dave, who is also an Olympic gold medal wrestling champ, to join them. However, Dave refuses to leave his family and home behind. Mark then begins training with the rest of the selected team members. But training and competing under the guidance of John du Pont was not what he had anticipated and things take an ugly turn.
The film moves at a slow pace with less dialogue and more expressions and gestures that are better left to interpretation. Steve Carell, very admirably, puts forth his best performance on the table. From his posture to the way he talks, there is an air of entitlement and pride. However, due to his grandiosity, he has misguided notions about how people should treat him. He is still fighting to gain approval from his mother, who disregards wrestling as a sport. Steve deserves serious nods for his performance, which is a stark contrast from his usual comedic roles. His physical transformation makes him completely unrecognizable.
For his part, Channing Tatum perhaps deserved more recognition than he received. With little dialogue, he managed to draw sympathy from the audience. His performance was certainly more than welcome – a refreshing break from his heroic lover boy roles in the past. This review probably wouldn't be complete without a nod to Mark Ruffalo in the role of a very encouraging and supportive brother and family man. Hence, the depth of the sadness we feel when he suffers injustice makes us realize how well he carried out his role.
Whether or not you're familiar with the true events that took place, this movie is an entertaining watch as it unveils the grim events, with some of the most incredible performances of 2014. Special features include Deleted Scenes and The Story of Foxcatcher.
Other movies released this week on DVD include The Captive, The Last of Robin Hood, Fighters, Tinker Bell and the Legend of the NeverBeast and Princess Grace. For a full list click here. ~Marriska Fernandes
To watch trailers for these movies, click on the links below: