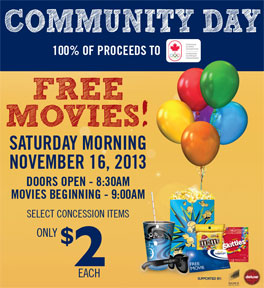 Cineplex Entertainment has announced it will host its third annual National Community Day on the morning of Saturday, November 16, 2013. Guests are invited to Cineplex theatres across Canada to enjoy a free movie, and popcorn, soft drinks and select candy items for $2.00. All proceeds from concession sales benefit the Canadian Olympic Foundation. "Community Day is a great opportunity for families to enjoy a free morning at the movies in support of a great cause," said Pat Marshall, Vice President, Communications and Investor Relations, Cineplex Entertainment. "Like all Canadians, we know our guests will welcome the opportunity to support our country's outstanding Olympic athletes."
Seating for each movie is limited and available on a first come, first served basis. The movies shown include:
Men in Black 3, The Pirates! Band of Misfits, The Smurfs, The Amazing Spider-Man, Hotel Transylvania (3D)
Theatres open their doors at 8:30 a.m. and the movies start at 9:00 a.m.  All locations will return to regular programming on the afternoon of November 16, 2013.