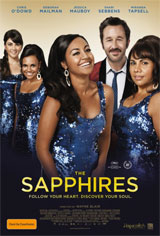 To kick off the 15th Anniversary imagineNATIVE Film + Media Arts Festival, a free screening of The Sapphires is being held at TIFF Bell Lightbox (350 King Street West) in Toronto. The movie starts at 7:30 p.m. in Cinema 3. Inspired by a true story, The Sapphires follows four vivacious, young and talented Australian Aboriginal singers and their makeshift manager, played by Chris O'Dowd, as they learn about love, friendship and war in 1968. Tickets are available in person at the TIFF Bell Lightbox box office on a first-come, first-served basis.
The 15th Anniversary imagineNATIVE returns  Oct. 22 to 26, 2014 with Indigenous works from around the globe featuring 130 films and videos; 11 industry panels and public workshops and more.
A special program curated by Caroline Monnet to honor the 10th anniversary of Wapikoni will be presented in French on Thursday, Oct. 23. Wapikoni is the world's largest producer of short films made by francophone Indigenous artists.
Storyteller Screenings, a cinema-meets-storytelling experience, will premiere on Saturday, Oct. 25 at the TIFF Bell Lightbox. This year Canadian literary star Joseph Boyden will present a new work with animation master Terril Calder. Then author, artist and activist Maria Campbell will share a new short story created in collaboration with Shane Belcourt, a leading filmmaker in Canadian Indigenous cinema. Together these artists–each from a Métis or mixed culture–combine craft, transcend media and explore new territory to tell a story unlike any other.