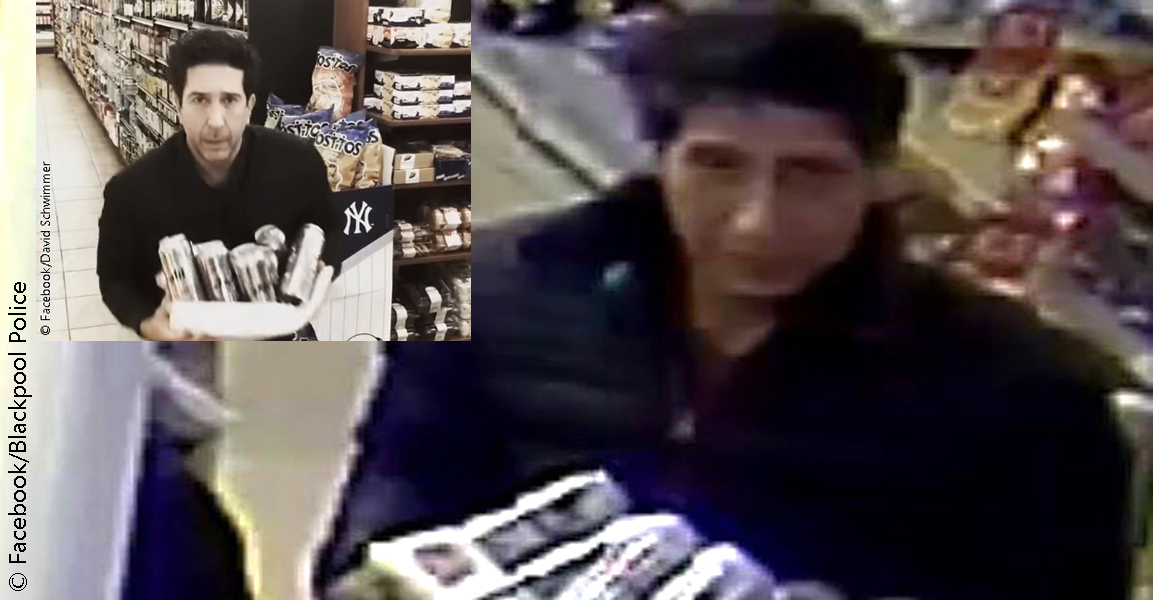 Security footage has revealed Friends star David Schwimmer has a sticky-fingered doppelganger who stole a case of beer from a restaurant in Blackpool, England. But the actor insists he was in America at the time and couldn't possibly have committed the robbery.
Schwimmer, who played Ross Gellar on the hit television series, quickly became the subject of a viral manhunt for the thief who was caught on camera stealing the beer. The suspect has dark hair and was captured wearing a black overcoat and is looking up at the camera while clutching the case of beer.
A still image was shared to the Blackpool Police Facebook page and in less than 24 hours the post had more than 112,000 comments and 72,000 shares, largely from fans pointing out the striking resemblance between the beer thief and Schwimmer.
"That's clearly not Ross. They're as different as night and… later that night," one user commented, in reference to one of Schwimmer's lines from the show's second season.
Another wrote, "It's a staff member. He was on a break," which was one of Ross' most famous lines from the series.
"Please approach with caution. He is known to have studied karate and we believe he has mastered the art of Unagi, the state of total awareness," one user quipped, taken from an episode in which Ross claims he is an expert in self defense.
In response to the viral image, Schwimmer took to Facebook and Twitter to share a video of himself carrying a case of beer in a similar fashion as the thief. He captioned the video, "Officers, I swear it wasn't me. As you can see, I was in New York. To the hardworking Blackpool Police, good luck with the investigation." Click below to watch the video.
Police later released a statement: "We have investigated this matter thoroughly and have confirmed that David Schwimmer was in America on this date." They added, "We're so sorry it has to be this way," as a clever wink to the Friends theme song. ~Caitlyn Clancey
Officers, I swear it wasn't me.
As you can see, I was in New York.
To the hardworking Blackpool Police, good luck with the investigation.#itwasntme pic.twitter.com/EDFF9dZoYR

— schwim (@DavidSchwimmer) October 24, 2018