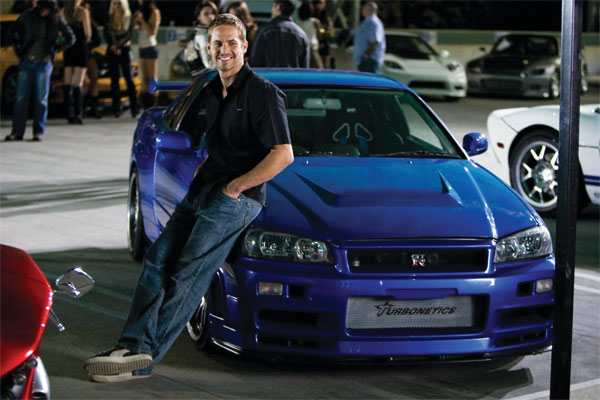 Furious 7 premiered at midnight on Sunday at the South By Southwest Film Festival. Fans lined up hours before the film's start time to get a good seat for Paul Walker's final film.
The biggest amount of applause came during the first few moments of Paul's appearance in the high octane racing movie. Furious 7 marks Paul's sixth appearance in the long-running movie franchise, going all the way back to the first film, The Fast and The Furious (2001).
Paul's character, Brian O'Conner, was an undercover police officer trying to catch street racing kingpin Dominic Toretto, played by Vin Diesel. As the series went on, he left his cop life behind to join Dominic as they try to live off the grid.
The actor's life was unfortunately cut short in November 2013, when he and his friend Roger Rodas were killed in a car crash. The film stopped production to give family and friends time to grieve.
Universal approached the family to find the best course of action in continuing the film, and to respect the late actor's legacy in the film series. Body doubles and CGI were used to convey Paul's appearance on screen as the film finished production.
To introduce the film, producer Neil Moritz spoke about the late actor, saying, "I know Paul Walker would be smiling down on us. We lost a dear friend, brother and comrade when we were making this movie. When we decided to continue this movie, we were determined to honor his legacy." Fellow actor Tyrese Gibson, who was a good friend of Paul Walker, also spoke to the fans. He expressed his thanks for their support and for keeping the franchise going. "We don't look at y'all as fans of the movie. Most of you grew up with us. The reason we kept the movie going is on behalf of our brother Paul Walker."
As the film closed, there was a touching tribute that left many in the audience holding back tears. The film hits theatres worldwide on April 3, 2015. ~Andrew Siwik