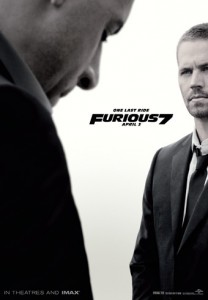 There's no stopping Furious 7. At this weekend's box office, the action-packed flick earned another $60.5 million dollars. Tribute fans love the seventh installment, giving it 4.8 stars.
The family animated flick Home stayed at second with $19 million. Tribute fans give it mixed reviews and 4.5 stars. 
The romantic drama The Longest Ride made its debut at number three with $13.5 million. Tribute fans have mainly positive reviews and rate it 3.6 stars.
This weekend Get Hard dropped another spot to number four, earning $8.6 million. Tribute fans rate it 3.4 stars and give it mixed reviews.
The live action remake Cinderella is still holding on to the top five. This weekend it came in fifth with $7 million. Tribute fans give it 4.5 stars and positive reviews. ~Sandra D. Sukraj