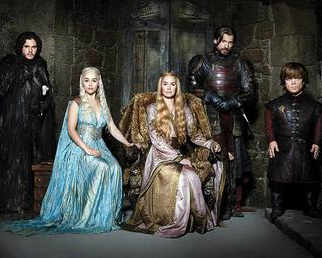 What was easily the most anticipated episode of season five – the ninth episode, The Dance of Dragons, was as thrilling and dramatic as Game of Thrones fans hoped. The ninth episode in every GOT season seems to have a crazy amount of drama and devastation, and last night's episode was certainly no different.
The second-last episode of this season started off a bit slow. Jon Snow returned to Castle Black after his epic battle with the zombie White Walkers and Arya is now on the trail of a new bad guy after being in the right place at the right time on her morning oyster-selling stroll.
This episode also followed the storyline of Jaime Lannister as he attempts to get his "niece" (who is actually his daughter with his sister) back from Dorne and he comes to an agreement with their King in order to do so.
As I said, episode nine each season usually comes with devastation and last night's episode was unfortunately no different. Stannis Baratheon did what most of us thought was the unthinkable and brought tons of people (it could not have been just myself) to tears. Stannis allowed his daughter to be burned to death, under the wretched Melisandre's guidance, and the young girl's death was horrifying and sad.
Stannis' love for his daughter was one of the best qualities he has shown in the show and his previous need to protect his family was always admirable. He has now put himself up there with Ramsay Bolton as one of the most hated characters on the series. Now two of the most hated characters are trying to take over the North… ugh (Quick Daenerys! Bring your dragons and kill them both!?).
Was the child's death really necessary? Some people may feel the need to wash their hands of the show after such atrocities keep occurring but there are many other story lines that keep people tuned in.
Thankfully the episode turned quickly to Daenerys Targaryen and the fighting pits of Meereen. Just to recap: Daenerys opened up the fighting pits between free men, against her good will, so the people of Meereen can uphold their traditions from before Daenerys was their Queen, like they asked. The men fighting are no longer slaves – thanks to Daenerys – they are free men who are honored to fight for their Queen.
The fight came to an end after her former trusted companion Jorah Mormont (exiled for being a spy) won the battle in order to gain back the Queen's acceptance. Jorah suddenly threw a spear past her body and all hell broke loose as Daenerys and her people came under attack from the masked men called Sons of the Harpy who fight against their new Queen's rule.
Hearts are racing, Daenerys seemed to be facing her death when suddenly something you were desperately hoping for occured. Dragon!!!!!!!!! Daenerys' free dragon Drogon came to the rescue and fans could take a sigh of relief as he started to burn the annoying pests. Daenerys climbed onto Drogon's back and the two soared into the sky and away to safety. If that's not the best way to end the episode then I don't know what is.
We have only one more episode left of this season – it went by too fast! Brutal men are trying to take over the North, Arya is treading fine water in her attempt to serve the Many Faced God, Jaime Lannister needs to get his "niece" (daughter) home safely, Cersei Lannister and her gang are in deep trouble in King's Landing, Tyrion Lannister and Daenerys' followers still need to get out of the pit alive and Jon Snow has a bigger war to worry about at The Wall.
So much is going on and so many questions still need to be answered. The last episode can't possibly answer all of our questions but GOT fans are definitely looking forward to see what comes next.~Erin Stewart