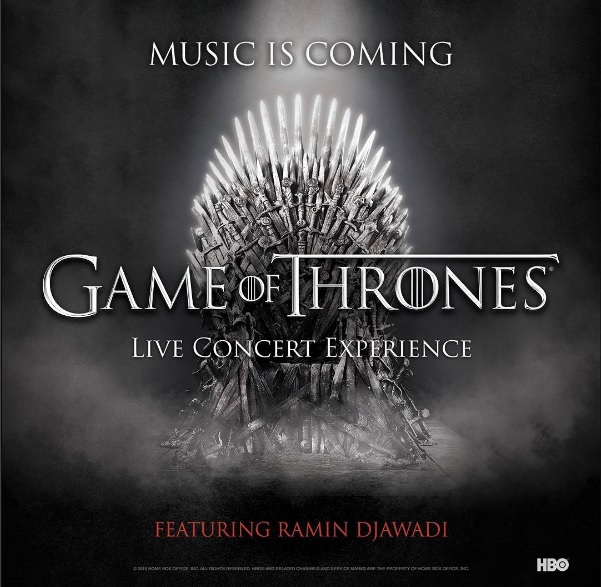 #Musiciscoming.
Fans of Game of Thrones may have a long winter (and spring and summer) to wait for the seventh season to hit the small screen, but they can soon experience its epic music live on stage.
Game of Thrones' Live Concert Experience, a nationwide arena tour based on the music from the hit HBO series, is described as a "music and visual experience that will bring the Seven Kingdoms to life on a scale never seen before."
The concert series will feature GoT's composer, Ramin Djawadi, conducting an 80-piece orchestra and choir through some of the series' most-beloved themes. Set on a 360-degree stage, the experience will blend elements of the fantasy epic through LED telescoping and wall screens flanked by flaming towers, and special 3D designs that will rise from the stage floor.
Live Nation and HBO announced the news yesterday at a fan event at the Hollywood Palladium in Los Angeles. Djawadi joined Bran Stark himself, Isaac Hempstead Wright, at the event, which featured the USC marching band marching through the streets of Hollywood playing Game of Thrones' theme song, followed by a 32-piece orchestra playing a 12-minute selection of music from the series to over 700 appreciative fans.
Djawadi, during a special Q&A portion of the event, said the idea for the arena tour came from one of the show's producers. "We were in the studio together reviewing some music and one of them said, 'I would love to see this live. I want to see full orchestra. I want to see a choir,'" he said. "So we went from there."
"It's a big, emotional, dramatic show," Djawadi continued. "It will be nice to see real musicians play those themes and remind us of some of the characters that we've lost throughout the season."
Following the announcement, Wright told Billboard magazine he's thrilled Game of Thrones' music is finally getting the attention it deserves. "It speaks volumes about the quality of the music and the show that it moves people," he said. "The fact that the music is reaching its own kind of level is fantastic."
The Game of Thrones Live Concert Experience kicks off February 15, 2017, at Kansas City's Spring Center, and spans across 28 cities throughout the U.S., as well as three across Canada. Tickets go on sale on Live Nation this Saturday (Aug. 13). ~Shelby Morton
Are you excited to see/hear Game of Thrones live? More importantly, will you be buying a ticket? Tell us below!