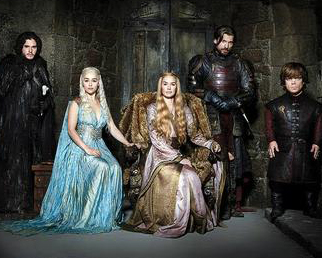 Like so many of its characters, Game of Thrones is becoming a major power player… in the realm of audience records and ratings, that is. With every season since the HBO series debuted in 2011, viewership numbers have grow exponentially (25 per cent, according to The Hollywood Reporter). The hit show has already achieved a personal best, pulling in a record high of 7.2 million viewers for the seventh episode, and with two episodes remaining in the fourth season, Game of Thrones may surpass The Sopranos as the most watched HBO show.
Not since the series finale of the landmark mob serial in 2007 has HBO enjoyed the surge in viewership it experienced with the Season 4 premiere of Game of Thrones — a record 6.6 million people tuned in, crashing HBO GO, the channel's subscription-based website and mobile app for streaming content.
Averaging 18 million viewers weekly, the fantasy series is now among the most watched on television, competing with network shows such as Sunday Night Football, NCIS, and The Big Bang Theory; and AMC's The Walking Dead, the leader in viewership records for cable.
Can HBO's dragons dominate AMC's zombies? This author demands a trial by combat!
The Season 4 finale of Game of Thrones airs Sunday, June 15. The series has been renewed for a fifth and sixth season. ~Daniel Horowitz