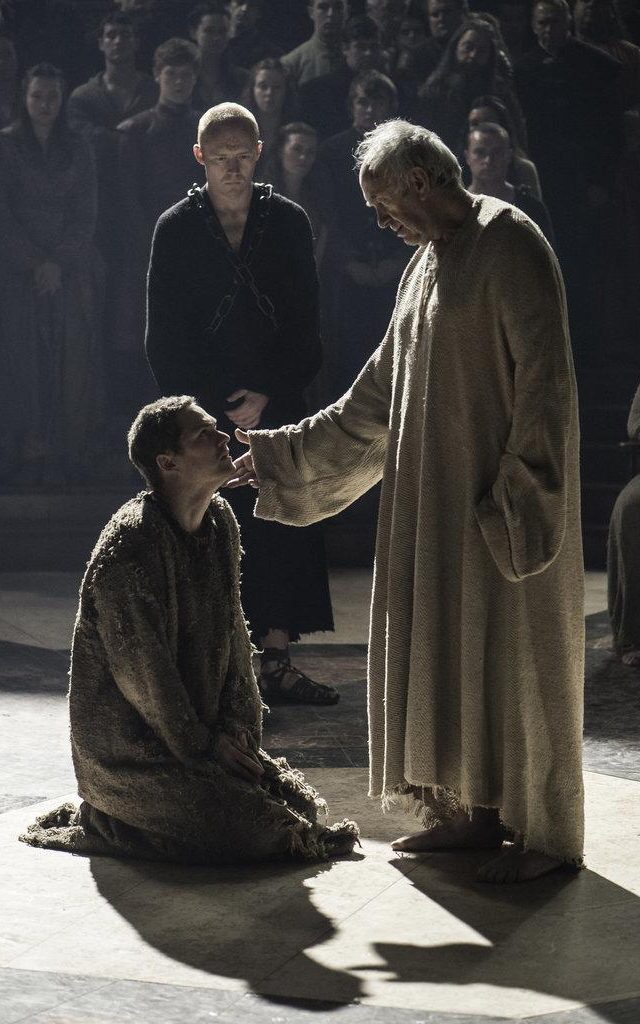 The night is dark and full of SPOILERS (don't read if you haven't seen the finale yet)
I called last week's episode the greatest self contained episode in Game of Thrones history. This episode may be the most satisfying finale the show has ever produced.
Much like last week's episode, The Winds of Winter delivers a sense of justice and leaves viewers with a sense that their six year investment in the show has finally paid off.
We begin in King's Landing where Cersei (Lena Headey), Tommen, Margaery (Natalie Dormer) and the High Sparrow are all preparing for the trial of Loras Tyrell. It's also the day of Cersei's trial, but she's not going anywhere. Cersei remains in The Red Keep, sipping her wine, while Ser Gregor Clegane prevents Tommen from leaving his chambers.
At the trial, Loras confesses his guilt and renounces the Tyrell name and his claim on High Garden. The High Sparrow accepts and instructs his men to carve the Seal of the Seven into Loras' head, while Queen Margaery senses that something's not right. She tells the High Sparrow that they must all evacuate the Great Sept of Baelor immediately. Margaery deduces that Cersei had stayed home, fully knowing the consequences of her absence, because she was planning a trap.
Her suspicion is correct. Lancel Lannister follows a child into a dungeon, where the boy stabs him. Lancel then discovers a number of soon-to-be ignited barrels of wildfire, but is too weak to stop the blast. Grand Maester Pycelle is also stabbed by the children. It ends up being Qyburn who orchestrated the plot and ordered the children to murder the men. He even apologizes to Pycelle before having him killed.
The explosion created by the wildfire might just be the most awesome thing I've ever seen on TV, and I'm using "awesome" in the classic sense. My jaw dropped and (according to my friend) I began to scream.
The entire Sept of Baelor and the surrounding area blew up. Yup! That means Margaery, the High Sparrow, Loras Tyrell, Lancel Lannister, Mace Tyrell and all of the High Sparrow's men are dead.
King Tommen witnesses the explosion from his chambers. In shock, and realizing that his mother just murdered his wife, Tommen jumps out of his window and falls to his death. Now the witch's prophecy has been fulfilled — Cersei has lost all three of her children.
Cersei then gets revenge on the nun who spent months tormenting her, waterboarding her with wine. She then beckons for Ser Gregor and the typically quiet nun begins screaming. As Cersei leaves the two alone, she mockingly chants "Shame. Shame. Shame."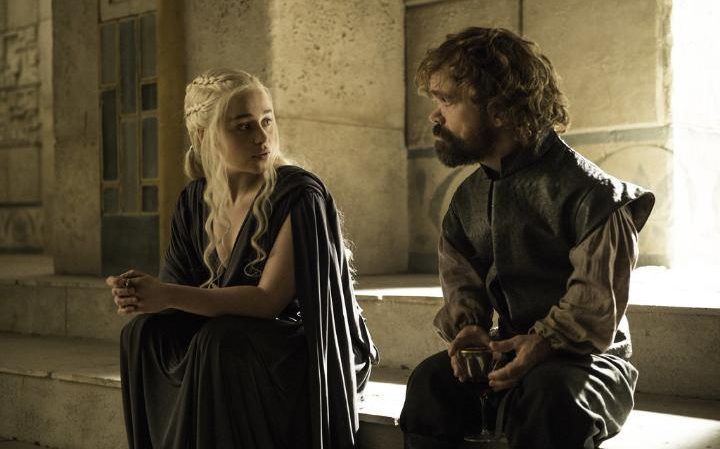 Let's check in with Dany (Emilia Clarke). She's just about ready to leave for Westeros, but first has to break things off with Daario. She leaves him in charge of the Meereen, and the two part ways, despite Daario insisting that he loves her. Daenerys later tells Tyrion (Peter Dinklage) she felt nothing while breaking up with Daario. Tyrion  insists it was the right thing to do, after all, she has to be open for marriage if she wants to form alliances. In an emotional scene, Daenerys names Tyrion Hand of the Queen while placing a pin on his chest. Tyrion kneels, and gives everyone at home the feels.
Back at Winterfell Ser Davos (Liam Cunningham) confronts Melisandre (Carice van Houten), in front of Jon Snow (Kit Harington), about burning Shireen alive. Melisandre tells both Jon and Davos that Jon would not be standing with them had she not obeyed the Lord of Light. Melisandre admits she was wrong about Stannis being the Lord's chosen warrior. Davos wants her dead, but Jon decides to banish her to the south instead.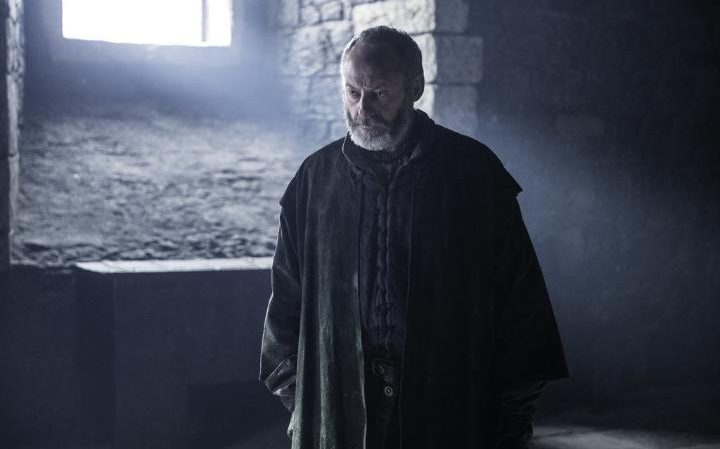 Lord Baelish (Aidan Gillen) tries to seduce Sansa (Sophie Turner) so that he may become Warden of the North and eventually sit on the Iron Throne, but Sansa tells him to keep dreaming. You go girl!
Later that night Lady Mormont praises Jon Snow as "King in the North." She says it doesn't matter that Jon's a bastard because he is still Ned Stark's (Sean Bean) son. The other houses in the North are present and each lord apologizes to Jon for not joining him in his battle against the Boltons. Every lord in the North pledges their allegiances to the "White Wolf" and proclaim Jon "King in the North."
Jon turns out to be more than just the King in the North. After parting ways with Uncle Benjen, Bran (Isaac Hempstead Wright) and Meera stop so that Bran can finally learn the truth about his father's past. In a flashback, Bran discovers what so many fans had already speculated.
Jon Snow is the son of Lyanna Stark, Ned Stark's sister. Lyanna died in childbirth, and her dying wish was that Ned protect her son. You see Lyanna was betrothed to Robert Baratheon, but Lyanna chose Rhaegar Targaryen instead, unbeknownst to Robert. It is for this reason that Ned claimed that Jon was his bastard.
I would be remiss to not mention the Riverlands. Jamie (Nikolaj Coster-Waldau) and Bronn go home. The Freys have control over Riverrun. Oh, and also Arya (Maisie Williams) disguises herself, murders Walder Frey's children, bakes their flesh into a cake, serves it to Walder Frey, reveals the "secret ingredient" as well as her real identity to him and slits his throat. No biggie.
Cersei now sits on the Iron Throne and is proclaimed the first Queen of Westeros. The final shot of season six is Daenerys' fleet sailing for Westeros. The Dothraki are so cute trying to get used to being on a boat!
Dany's three dragons fly freely above the fleet as the camera pans away, revealing the might of Daenerys Stormborn's army. Cut to black.
Seven hells! I think I have a Game of Thrones hangover. This season was amazing and I want to thank all of you for reading and commenting on these recaps.
What are your predictions for season seven? How did you like the finale and this season as a whole? ~ Yanis Khamsi