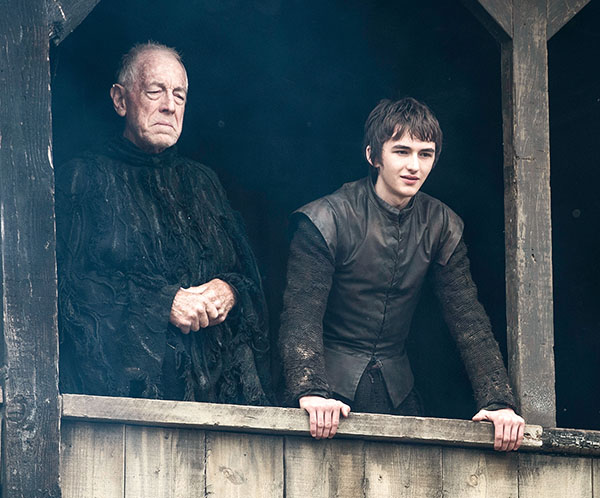 Warning: Major spoilers ahead.
Let's get right into it, shall we?
Game of Thrones' excellent second episode saw the happy resurrection of Jon Snow (Kit Harington), thanks to the Red Witch Melisandre (Carice van Houten). It's definitely great news, but we'll get to that later.
For now — Bran is back, and while he's still paralyzed, his psychic powers are in full force. At the very top of the episode, the youngest Stark (Isaac Hempstead Wright) goes on a psychedelic trip with The Three-Eyed Raven (Max von Sydow). In the vision, we're treated to a flashback of a young Ned Stark and his brother Benjen training in the courtyard of Winterfell. We also learn that Hodor's real name is Willis. Who knew?
But the return of Jon and Bran isn't the only news in the ever-changing land of Westeros. This season's plot is already moving full steam ahead — with a mounting body count to prove it.
First we saw the surprising end of Lord Roose Bolton at the hands of his son/political rival/resident sociopath Ramsay (Iwan Rheon). After six very dense seasons, Game of Thrones still knows how to throw its viewers for a loop.
But, sometimes, at the expense of story and just plain decency, the usually deft series attempts shock simply for shock's sake. As is the case with the next set of casualties — Lady Walda and her days-old son. Sure, it's important to show just how far the deranged Ramsay will go to get his seat on the Iron Throne, but did we really need to witness the brutal mauling of a newborn baby? Probably not. But, for better or for worse, Game of Thrones certainly isn't known for its subtlety.
Another of Ramsay's many victims, Theon Greyjoy (Alfie Allen) has decided to leave runaway Sansa (Sophie Turner) in the care of Brienne of Tarth and Pod to go back home to his family. Unfortunately, it's not the Pyke he left. His father, Balon Greyjoy, was unceremoniously thrown over the side of a creaky suspension bridge by his long-lost brother, Euron. The scene felt a little random and misplaced, but it was pretty epic nonetheless. Yara now looks set to become the next Lord of the Iron Islands; however, not if Euron has anything to say about it. And it'll be interesting to see how the return of Theon will affect things, as well.
Back in a floundering Meereen, the last remaining non-evil Lannister (Peter Dinklage) is always good for some levity. While Daario (Michiel Huisman) and Ser Jorah (Iain Glen) search for the captured Daenerys (Emilia Clarke), Tyrion has the bright idea to set the Queen's dragons free. He believes they're the last remaining assets they have, and they're wasting away in the dungeons. Cut to a great scene between a terrified Tyrion and a couple of hungry firebreathers. Luckily, the little man makes it out alive, but not before delivering this brilliant line to Varys (Conleth Hill): "Next time I come up with something like this, punch me in the face." Classic.
And in King's Landing, Cersei (Lena Headey) is being held in the Red Keep by her son, King Tommen. She's even being kept from her daughter Myrcella's funeral. You almost feel bad for her. Almost. We also can't talk about the Lannister matriarch without mentioning her mysterious bodyguard Ser Robert Strong. He provided yet another jarringly violent scene (smashing the skull of a drunken bar patron against a wall) that both scared and, oddly, intrigued.
The least interesting plot point so far has to be given to Arya (Maisie Williams). While begging for change on the streets of Braavos, the now-blind youngest Stark daughter is attempting to become No One, while training with the Waif and being tested by Jaqen H'ghar, and it all feels like an afterthought. She eventually passes Jaqen's test, and is led back to the House of Black and White. Hopefully we start to see something more compelling happen with this typically spirited character.
So, as previously mentioned, Jon Snow is alive! After all hope seemed to be lost, Ser Davos (Liam Cunningham) implored a deeply defeated Melisandre to attempt a resurrection. And she actually pulls it off. Who knew some water, a damp cloth, a few locks of hair, and a chant would turn out to be so effective in raising the dead?
What a great way to end a great episode. The next episode will surely reveal the consequences (there are always consequences) for using this type of dark magic. Is Jon Snow all there? And if so, can he simply take back the role as Lord Commander of the Night's Watch?
We'll just have to tune in next week.
~Shelby Morton