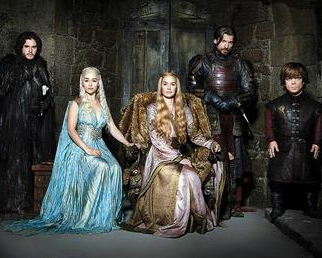 Millions of people are gearing up to tune in HBO's upcoming fifth season of Game of Thrones.
The highly anticipated television series, based on George R.R. Martin's series of novels titled A Song of Fire and Ice, is premiering this Sunday (April 12) and there is a lot of buzz about what to expect.
The trailer for the upcoming premiere shows our beloved characters but gives little away at the same time. It offers just enough to get fans feeling even more excited and back in the vibe of the show, but leaves out enough to make you want much more. It shows that you can obviously expect wars, love affairs and of course dragons, everything that you love about the show.
Speculation and fan theories about the fifth season have been floating around the internet for months but have intensified as the premiere looms closer. The actors who play on the most watched series on TV are not making the speculation any easier.
Kit Harington, who plays Jon Snow,  recently spoke out about his relationship with Melisandre, The Red Woman on the show, making fans crazy with anticipation.
In regards to his relationship with Melisandre, Kit told Entertainment Weekly, "There's definitely a future there this season, with him and her. Who knows what Melisandre sees in people, but she's obviously obsessed with bastards and noble blood. There's obviously something a bit special about him in this story, and she locks in on that. So this season she tries to seduce him. That's her power play. It's going to be an interesting battle!"
With Kit confirming The Red Lady's strange interest in him, many fans now feel he is giving more validation to a popular theory about who Jon Snow's parents really are.
Assuming you're a Game of Thrones fan, you'll know from the first season that Jon Snow is supposed to be the bastard son of Eddard (Ned) Stark. Ned was the right hand man to the late King Robert Baratheon but was killed in the first season, to all viewers' dismay, when he was charged with treason.
Sean Bean played the character of Ned Stark and added fuel to the fire when he told Vulture, "I'm obviously not Jon Snow's dad."
Hence, the R+L=J theory became even more popular. In short, the theory states that Lyanna Stark (Ned's sister) and Rhaegar Targaryan (Son of late King Aerys II Targaryen) are Jon Snow's real parents, which would give Jon Snow a right to the Iron Throne. Will this theory come about in the fifth season? Maybe not, but there are still two more novels to be written and more seasons to come where it could come to light.
Apparently we can expect to see a lot more of the fierce and idolized character of Daenerys Targaryan (Emilia Clarke). Pictures have surfaced on the web that show the meeting between Daenerys and Tyrion Lannister. At the end of the fourth season you will remember that Tyrion Lannister (Peter Dinklage) fled after killing his father.
With 10 episodes to come, there will undoubtedly be enough drama, gore, love, dragons and crazy plot twists to blow our minds. This season is sure to shed light on much speculation and many fan theories and no doubt is going to cause much more speculation for the upcoming seasons. ~Erin Stewart