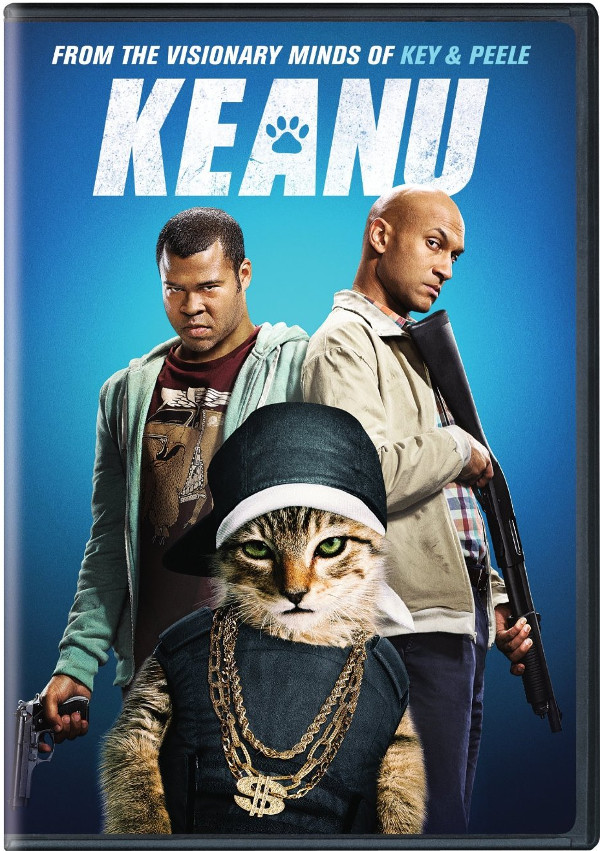 What do you get when you mix together assassins, comedians Key & Peele, a drug cartel, George Michael music, and an adorable kitten named after Keanu Reeves?  You get none other than the awesome action comedy Keanu.
The film starts with two assassins known as the "Allentown Boys," who kill everyone in a drug facility run by a Mexican drug cartel. However, the boss' kitten escapes, and is later found by Rell (Jordan Peele), who was just dumped by his girlfriend.
He affectionately names the kitten Keanu, and when his cousin Clarence (Keegan-Michael Key) comes over to cheer him up, he finds Rell making a calendar of Keanu — dressed up to parody various movies such as Mad Max: Fury Road and Beetlejuice. He even attaches a picture of his ex-girlfriend on Keanu's scratching post for him to tear to shreds.
Meanwhile, Clarence's wife Hannah (Nia Long) and their daughter go out of town, leaving Clarence alone, so he and Rell go see a Liam Neeson movie. But when the two return, they find Rell's house raided and Keanu missing.
After Rell's weed dealer Hulka (Will Forte) reveals that a local gang may have accidentally raided Rell's house instead of his, they meet Hi-C (Tiffany Haddish), who takes them to the gang's leader Cheddar (Method Man). They are mistaken for the fearsome Allentown Boys. Cheddar tells Rell and Clarence that he'll return Keanu if they help sell a new drug called "Holy Shit."
They try to sell the drug to Anna Faris (who plays herself), but in another bizarre scenario, they're abducted soon after by the actual Allentown Boys.
This big screen debut of comedians Key and Peele showcases their awesome chemistry and acting abilities. I loved how they change their straight-laced characters' personas into tough gangsters, to try to fool their much tougher acquaintances.
My favorites scenes were when Clarence attempts to assert that his pop/smooth jazz George Michael music is actually extremely badass, and when he hallucinates, Keanu speaks to him in the voice of Keanu Reeves in a George Michael video, after accidentally smoking some "Holy Shit."
The dynamic between the cute kitty Keanu and the thugs he's surrounded with — who treat him with so much fondness — is heartwarming. I'm just hoping they're actually release a Keanu the cat movie calendar, so I can see him in The Shining and The Matrix everyday on my desk.
Despite the tough themes in Keanu, the film is mushy at heart. Throw in gangsters, great comedians, and an adorable kitten, and you have yourself an action comedy worth viewing. ~ Natalia Makarski