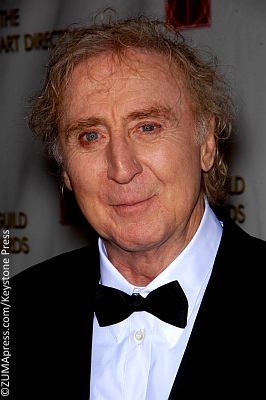 Gene Wilder, best known for his role as the eccentric Willy Wonka in 1971's Willy Wonka and the Chocolate Factory, has died.
According to his nephew Jordan Walker-Pearlman, he passed away Monday (August 29) in his home in Stamford, Connecticut of complications from Alzheimer's disease. He was 83 years old.
Gene was twice nominated for an Oscar for his work in The Producers and for co-writing the comedy Young Frankenstein with Mel Brooks. He was also lauded for his hilarious work in Mel Brooks' Western satire Blazing Saddles.
He leaves behind wife Karen Webb, whom he's been married to for nearly 25 years.
The legendary performer was previously married to Saturday Night Live alum Gilda Radner, who died in 1989 of ovarian cancer. Following Radner's death, Gene became a vocal advocate for cancer research and treatment, co-founding the Gilda Radner Ovarian Cancer Detection Center in Los Angeles and Gilda's Club, a support group to raise awareness around cancer. ~Shelby Morton
What is your favorite Gene Wilder character/movie? Tell us below.