Genius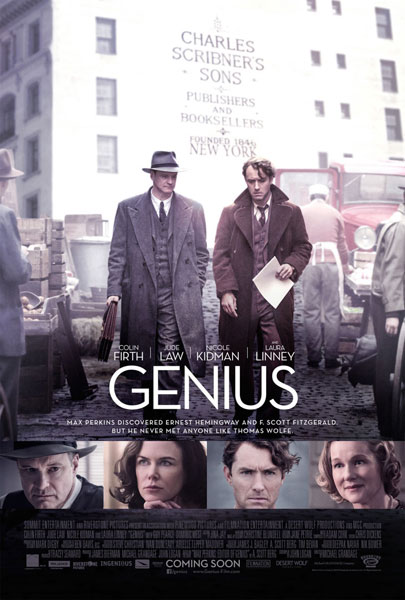 is the story of book editor Max Perkins (Colin Firth), who works at respected, longtime book publishing house, Charles Scribner's Sons. Perkins is an experienced and successful editor, having worked with authors such as Ernest Hemingway (Dominic West) and F. Scott Fitzgerald (Guy Pearce), whom he counts as his friends.
He's a decent, hardworking man who never takes off his hat, literally and figuratively. A colleague comes into his office one day with a manuscript by an unknown writer named Thomas Wolfe and tells Max the manuscript has been turned down by every publishing house in New York. High praise, indeed. Max still gives it a shot, even though it's a very lengthy manuscript.
He begins reading it on the train ride home and can't put it down. When he's finished, he calls Wolfe into his office. Wolfe, played by Jude Law, is a man who can't stop moving or talking. He politely tells Max he realizes he's just been called in to be turned down, and he says he's used to it, having received many rejection letters.
Max has a surprise for him. He wants to publish the novel, despite the terrible title (O, Lost) and the abundance of pages and words. He tells Tom he'll have to work hard to get it into a publishable form, and Tom, almost dancing with happiness, agrees.
And so begins the tale of how Max Perkins gave Thomas Wolfe — who would go one to be considered one of the most influential American writers of the era — a chance, when no one else would.
But as the saying goes, no good deed goes unpunished. Tom is a man who demands much from those around him. At one point, he tells Max he has no other friends, which is eye opening. Tom is having an affair with an older married woman whom he introduces as Mrs. Bernstein (Nicole Kidman). But as we soon realize, Tom loves himself much more than he can love anyone else.
Colin Firth is a perfect choice to play the middle-aged, very experienced and renowned editor. He's quiet, but strong; doesn't judge when it comes to the foibles of others, but has a strict moral code that he lives by himself; and he's stoic, but capable of deep emotion. Colin Firth is an Oscar-winning actor and there's an obvious reason for that — he embodies every role he takes on, including this one.
As Thomas Wolfe, Jude Law steals every scene he's in. It's hard to look at anything else when he's present. This whirling dervish doesn't stand still and never stops talking — which also means that he often puts his foot in his mouth.
Max develops a deep friendship with the younger man, though at times it's hard to see why. Tom may be a genius when it comes to writing and he's a definite "artiste," but his constant need for attention would be distracting for most people. Although Jude Law also appears a little old for the role (Mrs. Bernstein was 18 years older than Wolfe — Nicole Kidman doesn't look that much older, and Wolfe died at 37), he does such a great job that it's easy to overlook.
Kidman, also an Oscar winner, turns in a magnificently dark and disturbing performance as Mrs. Bernstein. Having left her husband and abandoned her children for Wolfe, she clings desperately to him and tries to mold him, but as he gets more and more successful, he needs her less and it's heartbreaking to see what his indifference does to her.
The details of the period are wonderful portrayed — I felt as if I was in the middle of the era, especially during the crowd scenes with so many people in period costumes and also in the scene when Max's entire family was sprawled in various spots of the living room, listening to a comedy show on the radio.
I also enjoyed the scenes when Max goes fishing with Ernest Hemingway, and has meetings with F. Scott Fitzgerald, who's struggling with not only a dry spell, but a wife who's battling with mental illness.
It's a fascinating look at these historical figures — especially if you appreciate American literature of the 1920s and 1930s. ~Alexandra Heilbron
Genius opens in Toronto, Montreal and Vancouver today. If you have seen Genius and would like to write your own review, please click here to rate and/or review the movie.