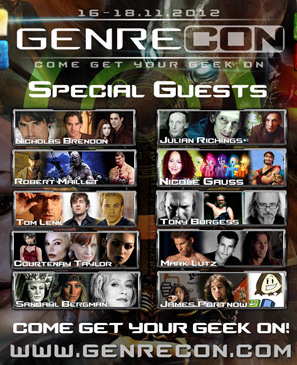 The inaugural GenreCon takes place November 16 till 18 at the Holiday Inn on Scottsdale in Guelph. Newly booked guests include Mark Lutz, best known for his recurring role on the Joss Whedon series Angel and for co-writing and starring in the TV movie Victor. Lutz will be joined by Pontypool novelist/screenwriter Tony Burgess, Sherlock Holmes and 300 actor Robert Maillet, Mass Effect voice actor Mark Meer and actor Connor Stanhope, who played a young Lex Luthor on several episodes of Smallville.
Previously announced guests include Michael Biehn (The Terminator, Aliens), Nicholas Brandon (Buffy the Vampire Slayer), Tom Lenk (The Cabin in the Woods), Sandahl Bergman (Conan the Barbarian), Julian Richings (Todd and the Book of Pure Evil), Courtenay Taylor (Mass Effect), and Nicole Gauss (My Little Pony) who will be signing autographs, taking pictures and answering questions with fans.
Aside from celebrity guests, GenreCon will also feature a dealers' room, panels, video game tournaments, a genre film festival, a masquerade, and karaoke. Tom Lenk will be performing his one-man show, Nerdgasm, which he's done on stage in London and at the Edinburgh Fringe Festival, as GenreCon's closing event. And there will also be the Hollywood Elemental Party at Crabby Joe's where fans, with a special ticket, can enjoy a nice meal up close and personal with their favorite celebrity guests.