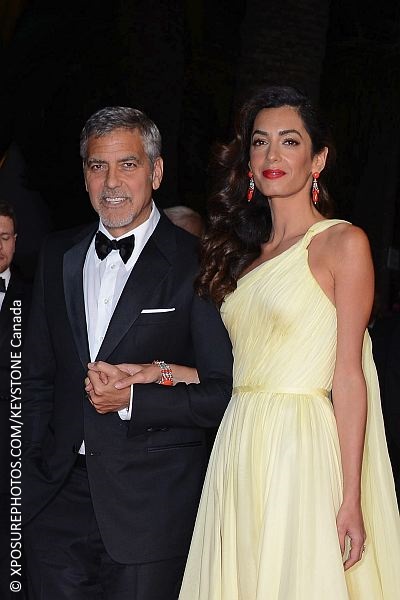 Before George Clooney and Amal welcome two bundles of joy later this year, the couple is already acting on their parental instincts.
The 55-year-old actor told French news outlet, Paris Match, that they are taking extra precautionary measures leading up to the birth of their twins, especially considering Amal's line of work as an international human rights lawyer.
Her job often requires traveling to dangerous countries in order to defend her clients. Amal is no stranger to high-risk situations in countries dominated by conflict, and has worked in Darfur and Egypt.
Most recently, the 39-year-old attorney has faced off against militant group ISIS to represent a client, who was a victim of human trafficking.
"We decided to be much more responsible, to avoid the danger. I will not go to South Sudan anymore or the Congo [and] Amal will no longer go to Iraq, and she will avoid places where she knows she is not welcome," George said. "Before, I did not care. I would even say that there was a pretty exciting side to going where no reporter had ever been."
George also shared that he and Amal are currently spending their time between their homes in U.S., Italy and England. Once the twins arrive, however, they will take up a permanent residence to give their children a more stable upbringing.
"As soon as the children go to school, it will be necessary to choose where to settle," the actor said. "In the meantime, we will continue to move according to our respective schedules."
Despite the immense pressures that come with raising not one, but two children, George shared that he and Amal are looking forward to becoming parents.
"We are very happy, very excited, but also a bit nervous, it's normal." ~Ashleen Grange