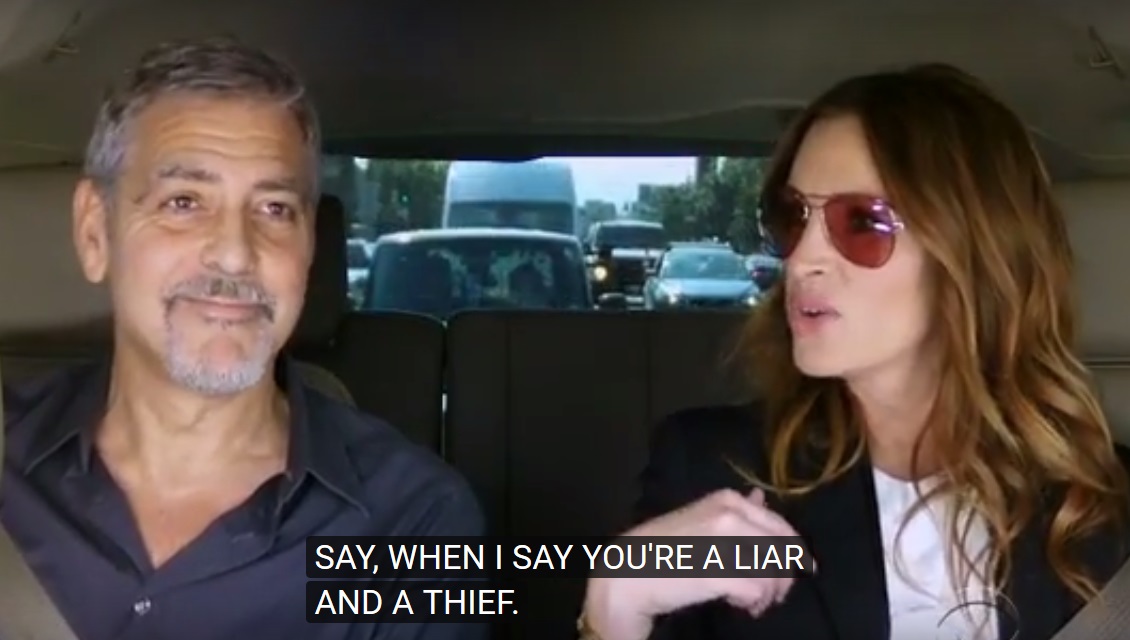 We all know by now that James Corden's Carpool Karaoke gig is B-A-N-A-N-A-S. The latest guest to carpool with Corden on the Late Late Show was Gwen Stefani. But it's the carpool crashers who gave us all the feels – the saucy George Clooney and Pretty Woman Julia Roberts.
Corden and Stefani first belted out "Don't Speak" and "Used to Love You" before emojis were being acted out and well, explained.
When Corden was hitting the HOV 4 lane, he needed two more passengers. Who better than "nothing to do" Clooney, who then called his pal Roberts. And then… it was magical. Watching the four of them sing "Hollaback Girl" was nothing short of hilarious. Clooney channeled his inner rock star and killed it, singing the verse, "this s**t is bananas!"
Of course, Clooney offered to explain to what he thought a "Hollaback Girl" was. We'd take a song lyrics class with Clooney any day now. Just sayin'.
Finally, the musical bunch tore through Queen's "We are the Champions" like pros. Now we'd like to hitch a ride with them, thankyouverymuch.
Watch the hilarious video below as you shamelessly sing out loud and totally out of tune.