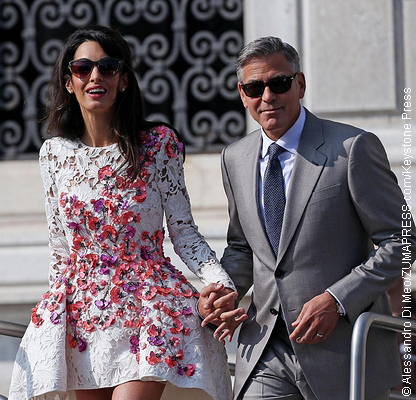 George Clooney, 53, has left his bachelor days behind him. He was married on Saturday, September 27 to human rights lawyer Amal Alamuddin, 36, at the seven-star Aman Canal Grande Hotel in Venice. The couple wrote their own vows and stood under an arch of white roses during the 20-minute ceremony, which began at 8 p.m. Afterwards, at the reception, guests were treated to a five-course meal by Italian chef Riccardo De Pra and canapés by Frederico Salza, while a small string orchestra provided soft music during the meal.
Guests included family and friends such as Matt Damon and his wife Luciana, John Krasinski and Emily Blunt, Bill Murray, Bono, Cindy Crawford and her husband, Rande Gerber, who is rumored to have been the best man. Vogue editor Anna Wintour was also invited, because Amal's Oscar de la Renta French lace wedding dress is scheduled to be featured in the magazine, along with other photos from the big day. George was seen heading to the wedding in a black suit with a bow tie, but no photos have been released of the nuptials themselves – and here's why. The event was kept very private, with no photos allowed. Cell phones and cameras were confiscated and instead, guests were given a camera to take pics, but the cameras had codes that enabled George's security staff to access the photos and find out where they were – so if a photo was given to any tabloid, George could find the matching photo and figure out where it came from.
On Sunday, George and his new bride and their guests went by boat to a wedding brunch at Belmond Hotel Cipriani. George wore a grey Armani suit with a blue tie while Amal sported a white Giambattista Valli Couture mini dress decorated with purple and red floral accents. Both sported wedding rings – Amal's was a slim, diamond eternity band.