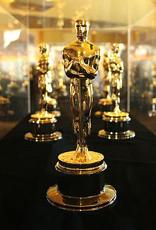 Tonight is the big night — the 89th Academy Awards. If you're excited to watch the ceremony, which will be hosted by Jimmy Kimmel this year, you might want to get our Oscar score sheet so you can follow along and check off the winners as they're announced.
The opening ceremony begins at 7:00 p.m. on ABC and CTV if you'd like to see Hollywood's elite walk the red carpet. The Oscars start at 8:30 p.m. and are expected to end by 11:30 p.m., but count on being up until midnight (or set your PVR until then) as speeches may take longer than expected.
Presenters tonight include: Leonardo DiCaprio, Brie Larson, Alicia Vikander, Mark Rylance, Halle Berry, Chris Evans, Gael Garcí­a Bernal, Samuel L. Jackson, Scarlett Johansson, Kate McKinnon, Hailee Steinfeld, and Fifty Shades Darker co-stars Jamie Dornan and Dakota Johnson.
Click here to get your Oscar score sheet and have a great time watching tonight! ~Alexandra Heilbron