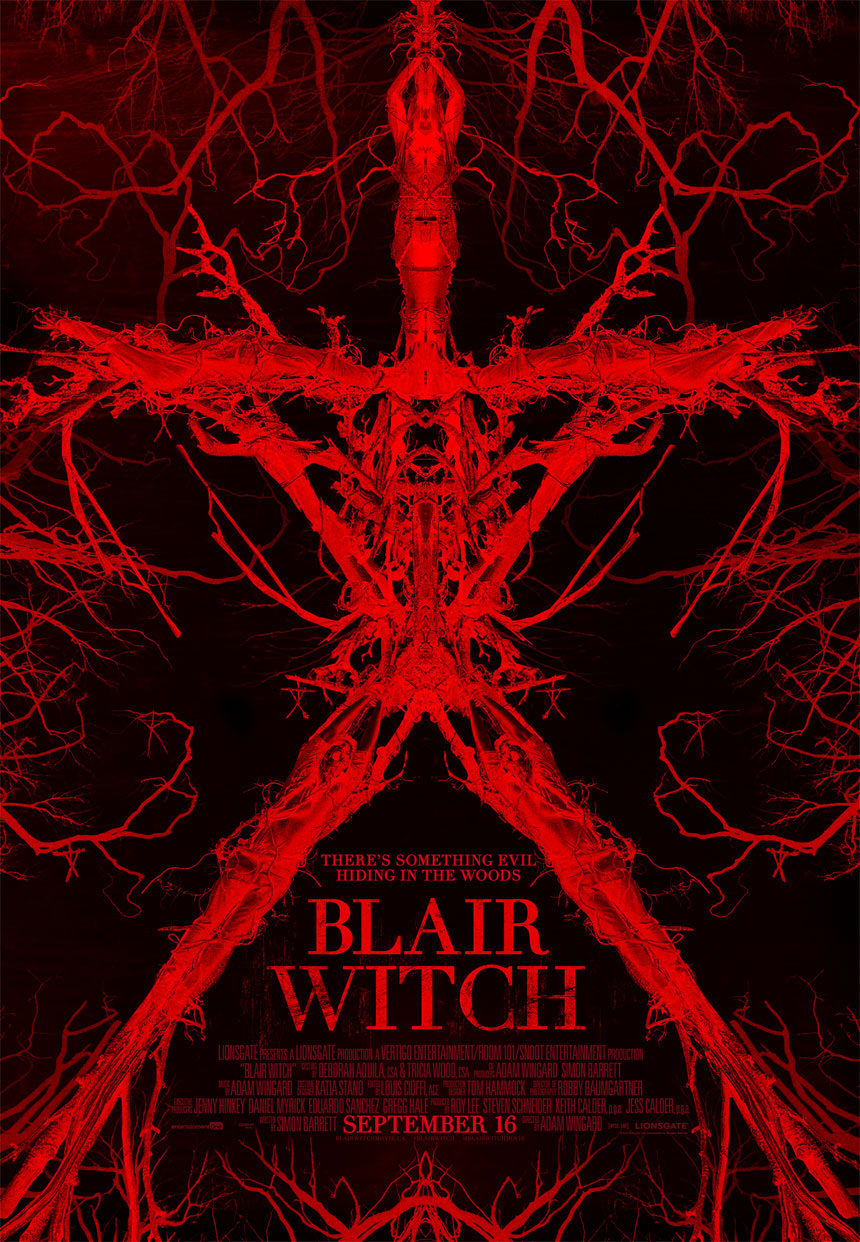 Are you a fan of horror, thrills, and suspense? Well then, this is the week for you! We've got a brand new trailer for Blair Witch, the long-awaited sequel to the cult classic horror movie The Blair Witch Project.
In Morgan, a corporate troubleshooter is sent to investigate an accident and finds a potentially dangerous artificially created humanoid. Then in the heart-pounding Shut In, a widowed child psychologist is caught in a deadly storm, and must find a way to rescue a young boy who's gone missing. ~ Natalia Makarski
But keep on scrolling down, as we've got even more awesome new trailers for you:
1.) Blair Witch
2.) Morgan
3.) Shut In
4.) Planetarium
5.) A Dog's Purpose
6.) Lion
7.) Skiptrace
8.) Mr. Church
9.) Kevin Hart: What Now?
10.) My Blind Brother
Blair Witch: Two decades after the events of The Blair Witch Project, a college student named James (James Allen McCune) comes across a video on the Internet that was shot in the haunted Black Hills forest. He believes one of the people in the video is his missing sister Heather, and so he and his filmmaker girlfriend Lisa (Callie Hernandez), along with friends Peter (Brandon Scott) and Ashley (Corbin Reid), head for the woods to search for her. However, it doesn't take long before the group begins to encounter events that are eerily similar to those that Heather and her film crew had previously encountered.

Morgan: Morgan (Anya Taylor-Joy) is a very special girl who's an artificial being. Despite growing to the size of an adult within six months of being created, she still has the mind of a child, complete with temper tantrums. Kept in a remote, top-secret location where she's cared for and monitored by a select staff of scientists who don't agree on whether Morgan is a "she" with feelings and rights or an "it," Morgan becomes an uncontrollable and unpredictable force, putting them all in danger. Corporate troubleshooter Lee Weathers (Kate Mara) is sent to investigate and evaluate when Morgan triggers a terrifying accident.
Shut In: Child psychologist Mary (Naomi Watts) is trying to put her life back together after losing her husband in a car accident. Her teenage son was in the same car accident and although he survived, he's in a coma. Mary is given a new patient, Tom (Jacob Tremblay), a little boy grieving after his mother's death. She takes him in, but he's taken away and escapes from custody during a winter storm. Mary suddenly starts hearing his voice in her house and catching glimpses of Tom. She finds her courage put to the test when more mysterious things begin happening as she's trapped in her isolated home during the storm.

Planetarium: This fantasy drama takes place in the 1930s and follows the journey of two sisters, Kate (Lily-Rose Depp) and Laura Barlow (Natalie Portman), who are believed to possess the ability to speak with the dead. After finishing their world tour in Paris, a visionary French film producer hires them to shoot an ambitious film. The political context of the film will resonate with Europe's current crisis and rise of extremism.

A Dog's Purpose: After a devoted dog (voiced by Josh Gad) passes away and says goodbye to his beloved owner, he is shocked to find himself reincarnated as a different breed and gender of dog. After being reincarnated as a new puppy over and over again, he begins to wonder what the meaning of life is. The dog then goes on a quest to discover his purpose in life over the course of his several reincarnations, and the many very different owners to whom he belonged to. Based on the bestselling novel by W. Bruce Cameron.
Lion: A five-year-old Indian boy, Saroo (Dev Patel), lives with his single mother and siblings in poverty. He and his brothers often beg for food and money at the train station. When his older brother Guddu doesn't come back from the train, Saroo hops on another train to look for him and winds up many miles away from his home. Declared an abandoned child, he winds up adopted by an Australian couple (Nicole Kidman, David Wenham), but when he grows to an adult, he decides to search for his true home and biological family.

Skiptrace: Bennie Chan (Jackie Chan), Hong Kong's top detective, has been given the task of bringing down China's deadliest gang, led by the mysterious and notorious crime boss Matador. In order to do that, he's paired up with American conman and gambler Connor Watts (Johnny Knoxville). When Connor is kidnapped by a Russian kingpin to answer for cheating his daughter, Bennie rescues him in the nick of time and the two head for Mongolia, where they get into further hijinks and engage in heated combat with a Chinese gang.

Mr. Church: In 1965 Los Angeles, a stranger arrives on the doorstep of 10-year-old Charlotte "Charlie" Brody and her single mother Marie Brody, who is battling breast cancer. They soon learn that the man, Henry Church (Eddie Murphy), has been hired by Marie's recently deceased former lover to help maintain the household. As Mr. Church's time with them extends from months into years, he becomes a father figure for Charlie. Even as Mr. Church tries to keep his own life separate, he eventually learns that the connection he feels to Charlie is what family is all about.

Kevin Hart: What Now?: In the follow-up to 2013's Let Me Explain—the third highest-grossing live stand-up comedy movie of all time—Kevin Hart once again takes center stage, only this time in front of 50,000 people at Philadelphia's Lincoln Financial Field, making it the first time a comedian has performed to a sold-out football stadium. His jokes range from topics such as iPhone's program Siri, kids these days having no edge, and airport washroom problems.

My Blind Brother: Robbie (Adam Scott) is a blind athlete, loved by his community and hailed as a local sports hero. Meanwhile, his brother Bill (Nick Kroll) knows that Robbie is actually sullen and arrogant. Bill is jealous because although he runs every marathon by Robbie's side, but never complains when he doesn't receive the same adoration as his brother. When Bill crushes on a new girl (Jenny Slate), he thinks his luck may be turning around. That is, until his brother tells him he likes the same girl, and their rivalry reaches its peak during a charity swim competition.