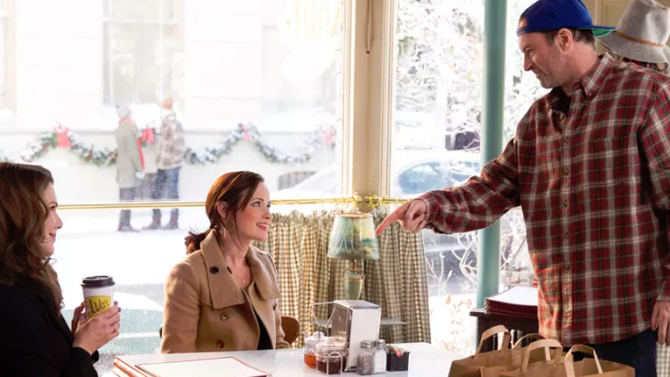 Fans of Gilmore Girls may want to spend a bit more time at the Luke's Diner pop-ups now that Luke himself (Scott Patterson) has been serving coffee.
On Wednesday morning at Comoncy Cafe in Beverly Hills, one of the locations playing host to Luke's Diner across North America, Scott arrived to an enthused crowd of fans. He snapped photos with as many as he could before quickly entering "his" establishment to distribute coffee.
The Luke's Diner pop-ups have been erected to commemorate the 16th anniversary of Gilmore Girls. Over 200 participating locations have been transformed, replete with "No cell phones" signs. Baristas at the locations even wear branded caps and aprons with the diner's logo proudly printed on front.
While addressing the success of Gilmore Girls, Scott touched on the show's faithful fan base. He told Variety, "I was always hopeful about the show… I'm glad we got to give fans what they truly deserve."
Scott also spoke of the revival Gilmore Girls: A Year in the Life, which will entail four 90-minute episodes intended to unfold over the course of a single year. He was cautious about not disclosing critical details, but did assure fans that Luke will be just as sour and cynical as audiences remember.
He added to Variety: "All I can say is that Luke is Luke… I think the reason why fans love him so much is because he doesn't change. He's kind of a rock that way, so fans are going to get more of that."
Scott added that although the show will contain elements that fans recognize, there are "unexpected surprises" in store as well.
Gilmore Girls: A Year in the Life launches on Netflix Friday, Nov. 25, 2016 at 12:01 a.m.
Below, check out a Tweet posted by Netflix featuring Scott in action.
Would you like to be waited on by Scott Patterson? Let us know!