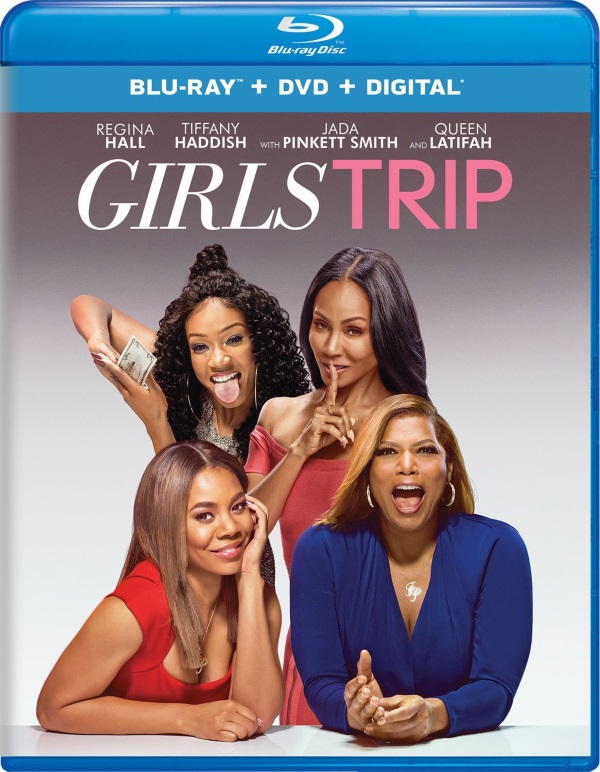 Grab your girls and get ready for a night of fun with the new Blu-ray combo pack release of Girls Trip.
Girls Trip tells the story of a group of four lifelong friends — Ryan (Regina Hall), Sasha (Queen Latifah), Lisa (Jada Pinkett Smith) and Dina (Tiffany Haddish) — who decide to link back up and raise hilarious hell on a weekend trip to New Orleans for the Essence Festival.
The trip seems to hit a few snags, though, when the husband of one of the women is found to be cheating on her, forcing the girls to address their differences of opinion, but ultimately proving they have each other's backs.
The film is R-rated hilarity at its best. When the girls are on their baddest behavior, expletives fly and so do the dirty jokes. Each character has their own personality — sometimes they mesh, and sometimes they don't. Either way, it leaves you laughing when the girls try to get each other to play along — especially when it comes to Lisa, the most cautious of the group.
But Girls Trip isn't just funny, it also packs a bit of an emotional punch. Seeing the girls rally behind each other to support one another is touching and reminds you that friends really are like family. It also definitely helps that the chemistry between the cast is palpable. You really believe the four friends have known each other for a lifetime.
Regina, Queen, Jada and Tiffany make an excellent team — they seem so close in the film and it feels like they were having a great time on set. They're so convincing at being the fun squad you go through thick and thin with that it almost makes you wish you could be a part of their crew. Tiffany Haddish shines, in particular. She is by far the funniest, and her unhinged antics will have you in stitches.
So if dirty humor backed by characters with a heart of gold is your thing, then don't miss Girls Trip. It might also inspire you to plan a weekend with your own gang!
Special Features:
Watch a series of deleted scenes to catch snippets of the movie that you missed. There's also an assortment of outtakes that bring on more laughs if you haven't had enough already.
Planning the Trip and The Essence of NOLA are featurettes that show the cast and crew talking about filming in the historic party city of New Orleans.
Outrageous Moments showcases the hilarious dirty humor behind the film.
In Extended Performance, you can catch a longer look at R&B artist Ne-Yo's performance of his hit song "Because of You." A must-watch for Ne-Yo fans.
Commentary by Malcolm D. Lee gives you a more in-depth look at how director Malcolm D. Lee put the scenes together and what was behind some of his creative choices.
Seen Girls Trip? Tell us what you thought by commenting below and leaving a review of the film here! ~Alexa Caruso