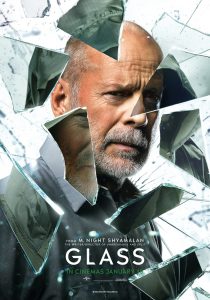 The new thriller Glass from director M. Night Shyamalan topped the box office, earning an impressive $40.6 million in its debut weekend. Starring  Bruce Willis, James McAvoy and Samuel L. Jackson, it picks up where Shyamalan's previous movies, Unbreakable and Split left off. 
Last weekend's top movie, The Upside, which stars Bryan Cranston as a paralyzed billionaire who hires an unqualified ex-con (Kevin Hart) as his caretaker, dropped to second place, taking in an additional $15.7 million for a two-week total of $44 million.
The animated sci-fi feature Dragon Ball Super: Broly debuted in third place with $10.7 million.
Aquaman starring Jason Momoa dropped to fourth place with an additional $10.3 million this weekend, giving it an incredible domestic gross of $304.3 million in its fifth weekend at the box office.
Rounding out the top five was the animated feature Spider-Man: Into the Spider-Verse, which earned an additional $7.3 million for a total gross of $158.3 million. ~Alexandra Heilbron