Godzilla: King of the Monsters took on all challengers this weekend to top the box office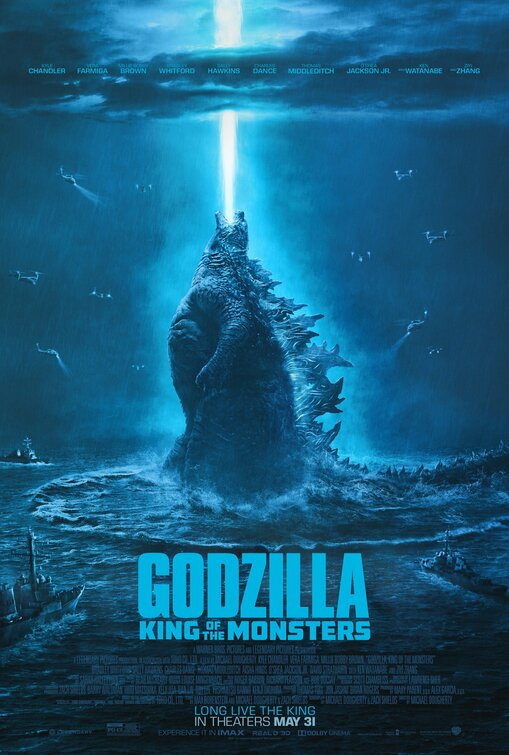 The month of May had one last monster to unleash at the box office in one of the busier weekends of the year thus far. Warner Bros.' third entry into their MonsterVerse, Godzilla: King of the Monsters, hit theaters this past weekend and debuted to the tune of $49 million to top the box office. That total has the Michael Dougherty-directed film trailing behind Jordan Vogt-Roberts' Kong: Skull Island ($61 million) and is a huge drop from Gareth Edwards' Godzilla ($93 million).
Dropping to second place was last weekend's number one film, Aladdin. The Disney live-action remake brought in an additional $42.3 million at the box office to bring its 10-day domestic total to over $185 million. That figure pushes it $2 million past its reported $183 million production budget.
Trailing just behind Aladdin was this week's third place film, Rocketman. The second of three new releases this weekend, the Elton John musical biopic finished with $25 million at the box office. While that figure places it behind a similar title such as Fox's Bohemian Rhapsody, the Dexter Fletcher-directed film is no less a success both critically and commercially.
Debuting at fourth was the last of this weekend's wide releases, Ma. The latest collaboration between Universal Pictures and Blumhouse Productions brought in an estimated $18.3 million at the box office. With a minuscule $5 million production budget, Ma has already more than tripled that figure for the Octavia Spencer-led film.
Rounding out the top five was John Wick: Chapter 3 – Parabellum. The third entry into the John Wick franchise added an additional $11.1 million to bring up its 17-day domestic total to just under $126 million. The added weekend take also helped push the film's worldwide gross to over $221 million, a first for the franchise. The film is now Keanu Reeves' 5th highest grossing film of all time. ~Paolo Maquiraya