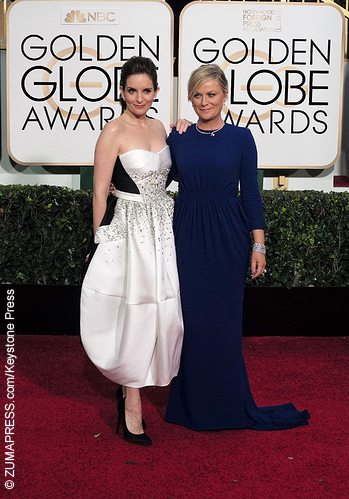 The Golden Globe Awards were held last night at the Beverly Hilton Hotel in Beverly Hills, California. Tina Fey and Amy Poehler (pictured) were on hand for their third time as hosts and they did not disappoint.
They joked about North Korea: "Tonight we celebrate all the great television shows that we know and love as well as all the movies that North Korea was okay with," Tina said, while Amy cracked a joke about Bill Cosby: "In Into the Woods, Cinderella runs from her prince, Rapunzel is thrown from her tower for her prince and Sleeping Beauty just thought that she was getting coffee with Bill Cosby."
When talking about the movie Big Eyes, Amy told the crowd, "One of those famous Big Eye paintings is on display tonight. Let's check it out." The camera suddenly focused on Emma Stone, who was looking around for the portrait, then laughed as she realized the joke was on her. Amy added, "It's cute but it's creepy."
Boyhood, the movie that took director Richard Linklater 12 years to film, took Best Motion Picture – Drama. Linklater also won Best Director, while Patricia Arquette won Best Supporting Actress in a Motion Picture.
There were surprises, including Amy Adams, who was not expected to win for Big Eyes. She was slightly flustered on the stage, telling the audience she wasn't prepared and hadn't even reapplied her lip gloss. Jennifer Aniston had been expected to take home the award for Best Performance by an Actress in a Motion Picture – Drama for her work in Cake, but lost to Julianne Moore for Still Alice.
Eddie Redmayne won Best Actor for his moving portrayal of Stephen Hawking in The Theory of Everything – which also won in the Best Original Score category. A newlywed, Eddie admitted that he and his wife cut their honeymoon short to come to Los Angeles for the ceremony, but said he wanted to thank the Hollywood Foreign Press Association "for giving me and us a night at the end of our honeymoon we will remember."
Full list of winners:
BEST MOTION PICTURE – DRAMA
Boyhood
BEST PERFORMANCE BY AN ACTOR IN A MOTION PICTURE – DRAMA
Eddie Redmayne – The Theory Of Everything
BEST PERFORMANCE BY AN ACTRESS IN A MOTION PICTURE – DRAMA
Julianne Moore – Still Alice
BEST PERFORMANCE BY AN ACTOR IN A SUPPORTING ROLE IN A MOTION PICTURE
J.K. Simmons – Whiplash
BEST PERFORMANCE BY AN ACTRESS IN A SUPPORTING ROLE IN A MOTION PICTURE
Patricia Arquette – Boyhood
BEST DIRECTOR – MOTION PICTURE
Richard Linklater – Boyhood
BEST MOTION PICTURE – COMEDY OR MUSICAL
The Grand Budapest Hotel
BEST PERFORMANCE BY AN ACTOR IN A MOTION PICTURE – COMEDY OR MUSICAL
Michael Keaton – Birdman
BEST PERFORMANCE BY AN ACTRESS IN A MOTION PICTURE – COMEDY OR MUSICAL
Amy Adams – Big Eyes
BEST TELEVISION SERIES – DRAMA
The Affair
BEST TELEVISION SERIES – COMEDY OR MUSICAL
Transparent
BEST MINISERIES OR MOTION PICTURE MADE FOR TELEVISION
Fargo
BEST PERFORMANCE BY AN ACTRESS IN A MINI-SERIES OR MOTION PICTURE MADE FOR TELEVISION
Maggie Gyllenhaal – The Honorable Woman
BEST PERFORMANCE BY AN ACTOR IN A TELEVISION SERIES – DRAMA
Kevin Spacey – House Of Cards
BEST PERFORMANCE BY AN ACTOR IN A TELEVISION SERIES – COMEDY OR MUSICAL
Jeffrey Tambor – Transparent
BEST PERFORMANCE BY AN ACTRESS IN A TELEVISION SERIES – DRAMA
Ruth Wilson – The Affair
BEST PERFORMANCE BY AN ACTOR IN A SUPPORTING ROLE IN A SERIES, MINISERIES OR MOTION PICTURE MADE FOR TELEVISION
Matt Bomer – The Normal Heart
BEST PERFORMANCE BY AN ACTRESS IN A SUPPORTING ROLE IN A SERIES, MINISERIES OR MOTION PICTURE MADE FOR TELEVISION
Joanne Froggatt – Downton Abbey
BEST MINISERIES OR MOTION PICTURE MADE FOR TELEVISION
Fargo
BEST PERFORMANCE BY AN ACTOR IN A MINI-SERIES OR MOTION PICTURE MADE FOR TELEVISION
Billy Bob Thornton – Fargo
BEST PERFORMANCE BY AN ACTRESS IN A TELEVISION SERIES – COMEDY OR MUSICAL
Gina Rodriguez – Jane The Virgin
BEST ORIGINAL SCORE – MOTION PICTURE
Johann Johannsson – The Theory Of Everything
BEST ORIGINAL SONG – MOTION PICTURE
Glory – Selma
BEST ANIMATED FEATURE FILM
How To Train Your Dragon 2
BEST SCREENPLAY – MOTION PICTURE
Birdman – Alejandro Gonzalez Inarritu, Nicolas Giacobone, Alexander Dinelaris, Armando Bo
BEST FOREIGN LANGUAGE FILM
Leviathan (Russia)