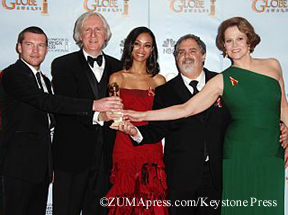 The stars lined the red carpet at Sunday's 67th Annual Golden Globe Awards, despite the rainy weather, and saw the top honors in of the night go to James Cameron's futuristic film Avatar. Hosted by Ricky Gervais, the star-studded event provided many clues as to Oscar night's possible winners.
Cameron's science-fiction blockbuster took home Best Director and Best Drama, beating out critically acclaimed films The Hurt Locker, Inglourious Basterds, Precious: Based on the Novel Push By Sapphire and Up in the Air.
The Hangover won a great feat for comedies when it received the best comedy or musical award over the star-studded Nine, (500) Days of Summer, Julie & Julia and It's Complicated.
A funny, yet tearful address was given by Sandra Bullock when named lead actress in a drama for her work in the football film The Blind Side while Jeff Bridges won best dramatic actor for his country-music role in Crazy Heart, which also won best original song for 'The Weary Kind.'
Acting legend Meryl Streep — nominated twice for best actress in a comedy or musical for Julie & Julia and It's Complicated — ending up winning for the former, while Robert Downey Jr. accepted best actor in a comedy for his work in Guy Ritchie's Sherlock Holmes. Supporting actor awards went to Christoph Waltz for his unforgettable portrayal of the 'Jew Hunter' in Quentin Tarantino's Inglourious Basterds and to Mo'Nique for her work in Precious.
Other big winners were the tear-jerker Up, which won best animated feature and best original score and HBO's Grey Gardens – the winning movie/mini-series for which Drew Barrymore received best actress. Kevin Bacon also won best actor for his work in the HBO film Taking Chance. And Jason Reitman's Up in the Air, starring George Clooney, was not totally locked out of the awards when it won best screenplay. The foreign language film award went to Germany's The White Ribbon.
Lastly, legendary director Martin Scorsese was honored by long-time friends and colleagues Leonardo DiCaprio and Robert De Niro when given the Cecil B. DeMille award for his many achievements in film. ~Clare Hill