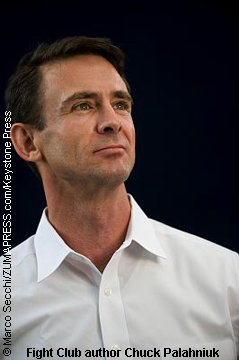 Almost 15 years after the David Fincher-directed hit film Fight Club, the author of the book, Chuck Palahniuk, will be in San Diego on Saturday to talk about all things Fight Club with David. Palahniuk is currently finishing up a Fight Club sequel in the form of 10-comic series graphic novel, which will be published in May 2015. The illustrator of the new graphic novel will also be on hand for the discussion. For fans of Palahniuk's work, his next novel, Beautiful You, comes out this October.
Speaking of novels turned into films, Sin City: A Dame to Kill For will be showcased at the con with directors Robert Rodriguez and Frank Miller, who is also the creator.
Video game fans will be eager for news on the upcoming film Warcraft, which is based on the video game series of the same name. It finished shooting in May and will release March 11, 2016. There's no place like Comic-Con to bring teasers or even a guest appearance from the cast.
Comic-Con is also the perfect place for news from the hush-hush Jurassic World and of course all things Star Wars: Episode VII. Stay tuned for more about the 2014 San Diego Comic-Con! ~Andrea Hodgins