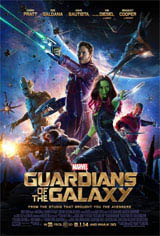 Taking out all its competition Guardians of the Galaxy, reigned supreme again during its fifth week at the box office, making over $16 million this weekend. Many factors are telling at why it remains number one, including a soundtrack, which has also topped the music charts and the use of humor mixed into what could have been dark subject matter. Another reason could be the character Groot (voiced by Vin Diesel), who, although he has limited vocabulary, wins over even the most skeptic moviegoer and has both comedic and tear-inducing moments in the film. Tribute viewers rate the sci-fi flick 4.3 stars.
Fighting hard to take second spot was Teenage Mutant Ninja Turtles, which after four weeks at the box office is rated 4.4 stars by Tribute viewers and brought in over $11 million at the box office last weekend (that could buy a lot of pizza!) Even more than Guardians, Turtles is family friendly and like Guardians, comes from a fan base, which could also help explain why these movies are doing so well.
If I Stay continues to be in third place. Tribute viewers give it 3.8 stars and it stood strong at the box office, making over $9 million this weekend. The movie may be a transition for Chloë Grace Moretz, as she moves from childhood into more adult subject matter in her films.
True to its name, As Above, So Below is fourth this week, taking in over $8 million its first weekend at the box office. The flick may take place in Paris but look for inner demons to be explored more than idyllic landscapes and l'amour. Apparently that works for Tribute viewers who gave the film 4.3 stars.
Rounding out the top five was the comedy Let's Be Cops, which made $8.2 million during its fourth weekend at the box office. Tribute viewers rated it 4.1 stars. ~Andrea Hodgins