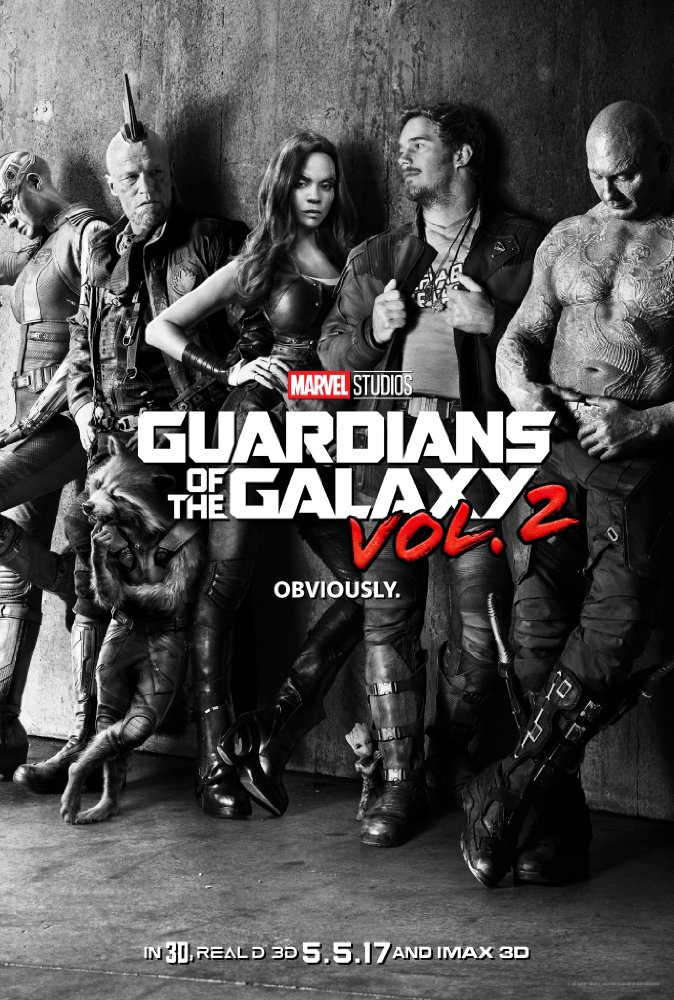 Obviously, the sneak peek of Marvel's Guardians of the Galaxy Vol. 2 is the showstopper among this week's new trailers. Set to Blue Swede's catchy track "Hooked on a Feeling," the first teaser of the film rocketed us back into outer space alongside our favorite intergalactic criminals, including Star-Lord (Chris Pratt), Drax (Dave Bautista) and Gamora (Zoe Saldana).
This week also afforded us a look at Wolverine (Hugh Jackman) and his Adamantium claws in the official trailer for Logan; a second glimpse of Callum Lynch (Michael Fassbender) in another trailer for Assassin's Creed; a peek at a business-oriented baby (Alec Baldwin) in the premiere trailer for The Boss Baby; and one last look at linguist Louise Banks (Amy Adams) in the final trailer for Arrival.
Check out the full list of new trailers below:
1. Guardians of the Galaxy Vol. 2
2. Logan
3. Assassin's Creed
4. The Boss Baby
5. Arrival
Guardians of the Galaxy Vol. 2- Picking up after the events of the first Guardians of the Galaxy, the whole gang — Peter Quill a.k.a. Star-Lord (Chris Pratt), Gamora (Zoe Saldana), Groot (Vin Diesel), and Rocket (Bradley Cooper) — is back, but this time it's to uncover the mystery of Peter's true parentage.

Logan- In 2024, Logan (Hugh Jackman) and Professor Charles Xavier (Patrick Stewart) must cope with the loss of the X-Men when a corporation lead by Nathaniel Essex is destroying the world, while Logan's mutant healing abilities are slowly fading away and Xavier is succumbing to Alzheimer's. Logan must defeat Nathaniel Essex with the help of a young girl named Laura Kinney, a female clone of Wolverine.

Assassin's Creed- Based on the popular video game series of the same name, the film adaptation revolves around criminal Callum Lynch (Michael Fassbender), who is rescued from his own execution by Abstergo Industries, the modern-day incarnation of the Templar Order organization. He is then forced to participate in the Animus Project and relive the memories of his ancestor Aguilar de Nerha, in 15th century Spain. Through these memories, Callum discovers he's a descendant of the secret Assassins society, and gains incredible knowledge and skills that will help him confront the oppressive and powerful enemies of the Assassins — the Knights Templar organization of the present day.

The Boss Baby- This original animated comedy by DreamWorks follows an unusual baby boy (voice of Alec Baldwin). He's bratty, witty, wears a suit, carries a briefcase, is addicted to coffee and has a profound impact on his new family. But Boss Baby has a singular purpose. He's been sent by Baby Corp. to investigate and put an end to Puppy Co., an organization with aims of putting babies out of business in favor of pets. The story of Boss Baby's arrival and his mission to derail Puppy Co. is humorously told through the eyes of Tim, the baby's imaginative, seven-year-old brother.

Arrival- When mysterious spaceships land in various locations around the world, the military hires an elite team consisting of linguist Louise Banks (Amy Adams), Ian Donnelly (Jeremy Renner) and Colonel Weber (Forest Whitaker) to investigate. As mankind is on the verge of a global war, Louise must learn the language of the aliens to allow communication, and the team must determine whether these alien crafts simply come in peace — or are a threat to humanity. Based on a 1998 short story by Ted Chiang called Story of Your Life.