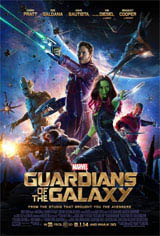 Director James Gunn is known for a mix of horror and comedy, having written the screenplay for Dawn of the Dead and the video game that pits a cheerleader against zombies, Lollipop Chainsaw. He's able to weave a comic and cosmic tale in this summer's Guardians of the Galaxy with serious subject matter, lightened with zippy dialogue and quirky characters.
After losing his mother to cancer, young Peter Quill's outlook on life changes. He's kidnapped by thugs on a spaceship and becomes a thief whose adventures begin after he steals a mysterious orb.
Now an adult (played by Chris Pratt), Peter meets Gamora (Zoe Saldana), who's connected with Thanos, a powerful being feared by many. He must decide if Gamora is an ally or if her loyalty will remain with Thanos. Genetic experiment Rocket (Bradley Cooper) and his partner, the tree-like Groot (Vin Diesel), plan to use Peter as a payday until an unfortunate event happens. In jail, the foursome meet Drax (Dave Bautista), who has a rough reputation and no wish to help Peter, unless they find common ground.
The stakes for this movie are high within and without as the Guardians of the Galaxy already had a fan base from the Marvel comics – fans will be eager to see if the characters on screen echo their comic counterparts. With a run time of 121 minutes, the movie delivers plot and character growth quickly, yet with a feeling of respect for each character and a truth behind their thoughts and actions. The movement between planets was a little confusing but the story makes sure to keep focus on who wants the orb, as well as why and what will happen when each character interacts with it.
The build to the story's climax is earned and the actors (real and CGI) give impressive performances. Look for memorable supporting performances from Doctor Who's Karen Gillian, Djimon Hounsou, John C. Reilly, Glenn Close and Benicio Del Toro, who continues revealing his character "The Collector," first seen in Marvel's Thor: The Dark World. Guardians also has a great soundtrack, woven perfectly throughout this enjoyable summer film. ~Andrea Hodgins