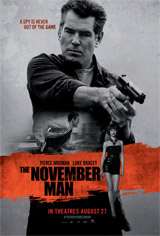 Check out what's being offered up by film studios this weekend. Based on Bill Granger's political thriller novel, There Are No Spies, The November Man stars Pierce Brosnan as an ex-CIA agent lured out of retirement on a highly personal mission. Along the way, he'll have to protect a mysterious beauty (Olga Kurylenko) and match wits with his former protegé (Luke Bracey). The espionage thriller opens everywhere today. Click HERE for showtimes.
Science-fiction isn't so far behind reality, and The Congress, directed by Oscar-nominated Israeli filmmaker Ari Folman (Waltz With Bashir), is an example of that. In order to provide for her ailing son, an aging actress (Robin Wright, playing herself) with a fading career is offered a lucrative contract to preserve her image digitally for all time, Featuring a mix of both live-action and animation, the film also stars Harvey Keitel, Jon Hamm and Paul Giamatti. The film opens in limited release (Toronto, Vancouver, Quebec). Check out showtimes for this topical sci-fi thriller HERE.
Anyone looking for goosebumps this weekend? As Above, So Below has got you covered. When a team of explorers enter the Parisian catacombs deep beneath the city of love, they end up finding death and terror, much more than they bargained for in this horrifying look into the human psyche and the one of the world's largest underground cemeteries. For chills and thrills, find showtimes HERE… if you dare.
It's been nearly a year since Life of Crime closed TIFF 2013, but the crime comedy is finally opening this weekend in limited release (Toronto, Vancouver, Montreal, Edmonton). Based on The Switch, a novel by famed writer Elmore Leonard (author of Get Shorty, 3:10 To Yuma, Jackie Brown), the film features Mos Def and John Hawkes as two ex-cons who kidnap a wealthy socialite (Jennifer Aniston) to blackmail her husband (Tim Robbins). There's only one problem: he doesn't want to see his wife again. Find your theater and laughs HERE.
In celebration of its 30th Anniversary, Ghostbusters is returning to cinemas for ONE WEEK ONLY. Starring Bill Murray, Dan Aykroyd, and Sigourney Weaver, Ivan Reitman's 1981 cult classic comedy has been remastered and restored in 4K resolution. When you need to find your local theater, who you gonna call? Tribute showtimes! ~Daniel Horowitz
Who will win the box office this weekend? Let us know in the "Comments" below.