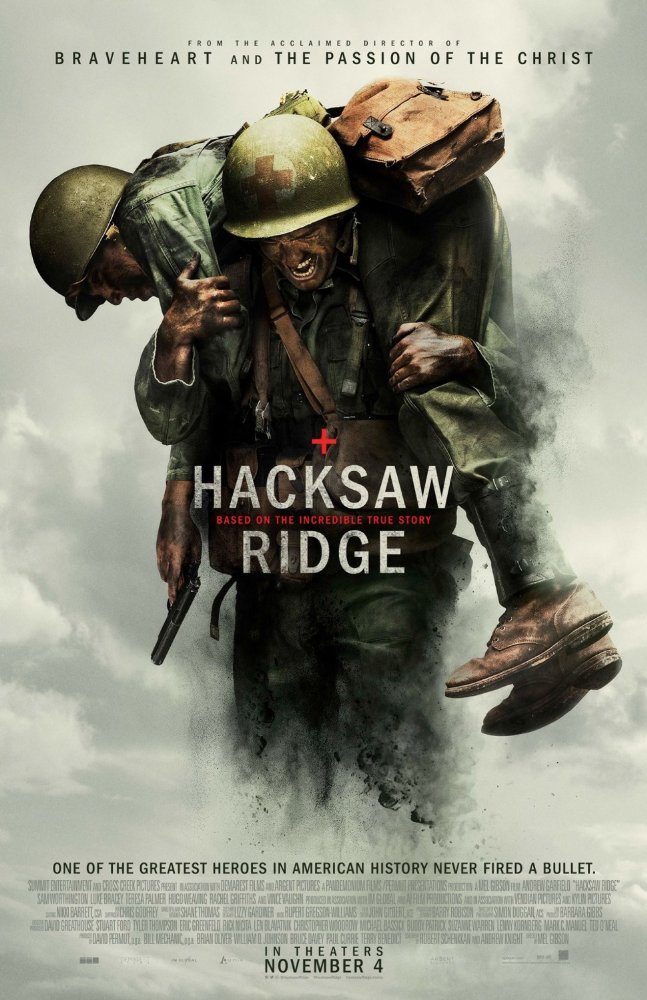 It's looking like Doctor Strange will be dethroned at the box office this weekend by a crew of curious magical creatures in Fantastic Beasts and Where to Find Them. Unfortunately for him, the neurosurgeon was also cut out of the No. 1 position among this week's trailers.
Benedict Cumberbatch and Doctor Strange fell to Andrew Garfield and Hacksaw Ridge for this week's trailer trophy. It's the official trailer for the WWII drama that chopped the Marvel film's second clip for the win.
Amy Adams and the aliens that she communicates with in Arrival took third, while a pair of Trolls battled it out with Ben Affleck and The Accountant for fourth. ~Matthew Pariselli
Check out this week's top five trailers below:
1. Hacksaw Ridge
2. Doctor Strange
3. Arrival
4. Trolls
5. The Accountant
Hacksaw Ridge- During WWII, Desmond T. Doss (Andrew Garfield) was an American army medic who refused to bear arms. In Okinawa, during the bloodiest battle of WWll, Desmond single-handedly evacuated 75 men from behind enemy lines without even carrying a gun. He also became the first Conscientious Objector in American history to be awarded the Congressional Medal of Honor. In addition to the brutal Okinawa battle, Desmond demonstrated bravery, compassion and heroism during attacks in Guam and the Philippines.

Doctor Strange- A brilliant but arrogant neurosurgeon named Doctor Strange (Benedict Cumberbatch) has a horrific car accident that leaves him with serious nerve damage to his hands, cutting short his career as a doctor. When Strange is given a tip from someone who recovered from a similar accident, he goes on a quest for a miracle cure and finds a mystical and mysterious sorcerer called the Ancient One (Tilda Swinton). She teaches him to put his massive ego aside and instead, give himself over to the mystical arts in order to defend the world against evil.

Arrival- When mysterious spaceships land in various locations around the world, the military hires an elite team consisting of linguist Louise Banks (Amy Adams), Ian Donnelly (Jeremy Renner) and Colonel Weber (Forest Whitaker) to investigate. As mankind is on the verge of a global war, Louise must learn the language of the aliens to allow communication, and the team must determine whether these alien crafts simply come in peace — or are a threat to humanity.

Trolls- The optimistic Trolls live in a colorful, wondrous world full of song and dance. But their lives of rainbows and happiness are changed forever when the Troll-hungry Bergens invade their colorful Troll Village. Poppy (Anna Kendrick), the bright and sunny leader of the Trolls, must set off on a journey to save the town along with her polar opposite, the overly pessimistic Branch (Justin Timberlake). The mismatched duo are taken far beyond the only world they've ever known, and must tolerate each other long enough to get their job done.

The Accountant- Christian Wolff (Ben Affleck) is a math genius who works in a small town office as a cover for his real job as a freelance accountant who "cooks the books" for dangerous criminal organizations. When Ray King (J.K. Simmons), the head of the Treasury Department's Crime Enforcement Division, shows interest in his activities, Christian takes on a legitimate client to throw him off. Dana (Anna Kendrick), an accounting clerk who works for the company, has discovered a discrepancy involving millions of dollars. Before going public, they hire Christian to find the missing money. As they get closer to the truth, bodies begin to pile up.