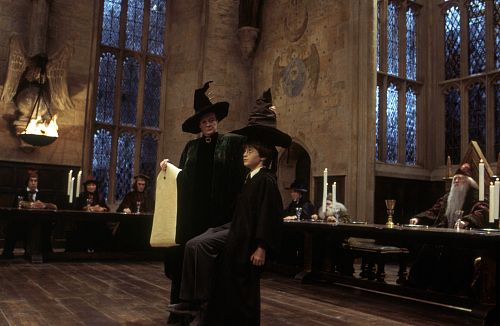 Harry Potter fans, you're welcome back at Hogwarts.
J.K. Rowling's wonderful world of witchcraft and wizardry has been the subject of much discussion recently, with last week's launch of the final trailer for Fantastic Beasts and Where to Find Them. But with news that IMAX is bringing the Harry Potter universe back to theaters for a one-week only event, the frenzy is hitting a fever pitch.
IMAX and Warner Bros. have announced that all eight Harry Potter movies will screen in select theaters over the week of Oct. 13, 2016.
Aside from revisiting Hogwarts through the Harry Potter films, attendees will also be granted a first look at never-before-seen footage from Fantastic Beasts, which stars Eddie Redmayne and officially releases Nov. 18, 2016. The cast of the film is scheduled to make special appearances at certain London and Los Angeles showings.
The first two films in the cherished franchise — 2001's Harry Potter and the Sorcerer's Stone and 2002's Harry Potter and the Chamber of Secrets — will be digitally remastered for IMAX treatment. It will be the first time either film has been featured in the brilliant fashion IMAX permits.
Greg Foster, CEO of IMAX Entertainment and senior executive vice president of IMAX Corp., addressed the profound influence of the Harry Potter films on the development of IMAX. He said, "Harry Potter is one of the most beloved film franchises of all time and is incredibly important to the history of IMAX."
In addition to the IMAX experience filmgoers will be offered, the Harry Potter films will also hit screens in 2D.
What do you think of this news? Will you be hopping on your Nimbus 2000 and heading to theaters to reunite with Harry, Ron and Hermione? Share your thoughts with us!