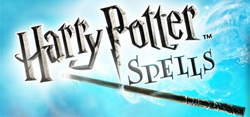 Calling all Harry Potter fans!
Warner Bros. would like to share never-before-seen footage of some of your favourite Harry Potter movie characters, Rupert Grint (Ron Weasley) and James and Oliver Phelps (Fred and George Weasley) playing and discussing Harry Potter Spells, the first official Harry Potter iPhone game.
The Harry Potter Spells game transforms Muggles everywhere into fledgling wizards, casting spells at their opponents by using their phone as wands. Beginning with an arsenal of 14 spells, wizards-in-training can conjure magic alone or duel others by casting spells from one device. The game is currently available in the App Store.