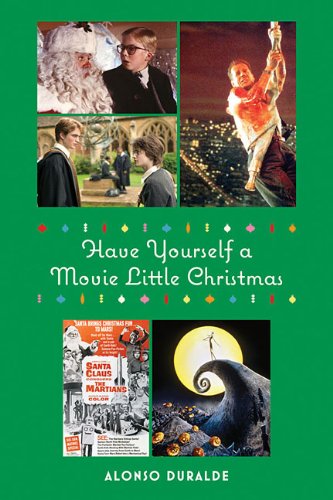 One of the best part parts of the holidays is snuggling on the couch beside loved ones with a hot chocolate in hand and getting wrapped up in a Christmas movie. Everyone has their Christmas traditions, whether it's watching a holiday favorite, discovering a film you've never seen before or watching Home Alone for the second time that day. However, even if you're a stickler for traditions sometimes you just need a break from the usual in order to expand your horizons, even if it's just to Home Alone 2. Film critic Alonso Duralde has written the perfect book for just that and it's sure to help you find the next movie to fill your television screen and heart — or at least let you in on a few fun facts about the movies you just can't say no to.
In his new book, Have Yourself a Movie Little Christmas, Duralde takes a look at, for the most part, all of the good, the bad and the classic Christmas movies out there. He gives a taste of why he believes certain movies are the perfect accompaniment for the holidays, why some are so bad that they're good and why certain films should even be considered Christmas movies to begin with.
The book offers a little something for everyone by dividing up the movies into chapters based on topics and interests including: Christmas Movies for Kids, Christmas Comedies, Holiday Tearjerkers, Christmas Classics, Crime & Action Extravaganzas and even Holiday Horror. Whether it's about a classic, an action packed thriller or a film with only a touch of holiday cheer demonstrated by a Christmas tree in the background — the book provides a guide for you to quickly discover new films or something new about one of your favorites — by offering brief synopses of the films and an overview of the casts and crews. It also offers even more insight into the films by providing fun facts about the stars and the making of the films that make the movies that much more view worthy. But don't worry if on the rare occasion that you've somehow already seen all of the movies Duralde exclusively discusses he also provides an appendix featuring many other holiday movies for you to scan through and discover.
Duralde successfully provides his own definition of what a Christmas movie is without limiting it to sentimental stories and Santa Claus. He gives an entertaining, funny and honest look at the movies that have come to be known as Christmas movies and provides the groundwork for others to discover what could be their next holiday staple. The book is sure to provide family and friends with endless entertainment as they discover new favorites.
Have Yourself a Movie Little Christmas is currently available in bookstores and is a part of our 25 Days of Christmas giveaway throughout the month of December. So what are you waiting for go grab a flick and some Christmas cookies and "Have Yourself a Movie Little Christmas." ~Janine Wyslobicky