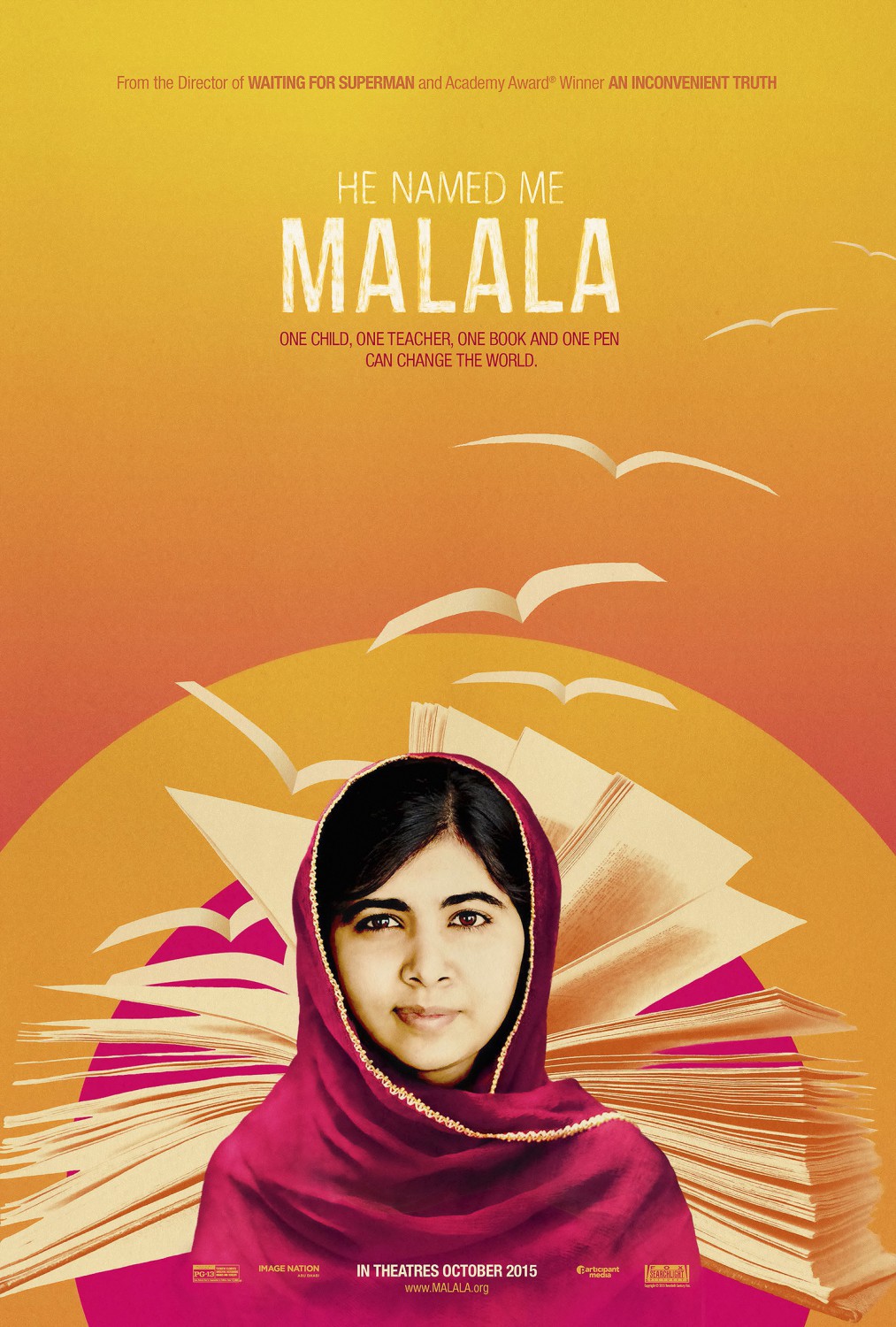 When a 15-year-old girl was targeted by the Taliban and shot in the head in Pakistan exactly three years ago on October 9, 2012, the news made headlines. Many probably didn't know who the girl was or why she was shot. But we soon found out.
Her name is Malala and she loved education and attending school so much that she spoke up about all girls getting the opportunity to learn. That earned her a death sentence in the eyes of the Taliban.
He Named Me Malala starts with how Malala got her name. Her father, Ziauddin Yousafzai, named her after Malalai, a courageous teenager who rallied local Pashtun troops against the British during a battle in 1880 at the Battle of Maiwand. Although the British were defeated, Malalai was killed during the battle.
Fast forward to Malala. She tells how her father started a school and how, as a toddler, she was intrigued by the lessons being given. She loved listening to lectures and after hours, she would stand in the classroom and pretend to give speeches herself. Naturally, she attended the school when she was of age, with other boys and girls – a rarity in Pakistan, where girls are only expected to do things like the dishes, according to her younger brother.
Her older brother says Malala is "addicted to books." It's not just that she's intelligent. This girl is wise beyond her years. When she stands up and speaks to crowds, it's moving and motivating.
When Malala was shot, she was not expected to live. Clinging to life, she was transported to England, to a hospital that specializes in military injuries. The shot went through her head, neck and shoulder.
Malala spent months in physio, regaining the ability to speak and walk. There are nerves that were damaged beyond repair, but Malala holds no grudges. In a speech to the UN General Assembly in 2012, she said, "I do not even hate the Talib who shot me. Even if there was a gun in my hand and he stands in front of me, I would not shoot him." She feels the attack has made her less afraid. She added, "The terrorists thought they would change my aims and stop my ambitions, but nothing changed in my life except this: weakness, fear and hopelessness died. Strength, power and courage were born."
Malala and her family now live in England. Since the attack, they have moved four times. Malala would love to go home, to the Swat Valley where she was born and raised, but she knows she will be targeted. She can't even go there for a visit.
Nonetheless, she continues to speak up. Earlier this year, she publicly urged the Nigerian government to take responsibility for the hundreds of schoolgirls who were kidnapped last year by a terrorist group.
Malala is shown at home, teasing her brothers and talking about her favorite male sports stars. She admits that she's like other girls from the Swat District in some ways, but if she wasn't the child of her mother and father, she would probably be married now, at 17, with two babies. When asked if her father, who's known for speaking publicly about education himself, pushed her to do what she's doing, she laughs and explains that he might have given her the name Malala, but he didn't make her who she is. She did that.
The film is based on Malala's autobiography, I Am Malala, which was released in October 2013. Just prior to its release, Taliban spokesperson Shahidullah Shahid told the UK newspaper The Telegraph: "The Taliban will not lose an opportunity to kill Malala Yousafzai and those who were found selling her book will be targeted."
Last December, Malala received the Nobel Peace Prize. In her acceptance speech, she said, "I tell my story, not because it is unique, but because it is not. It is the story of many girls."
He Named Me Malala is a fascinating look at a very inspiring, courageous and special girl. The film opens today in Toronto, Vancouver, Calgary, Victoria and Kelowna.