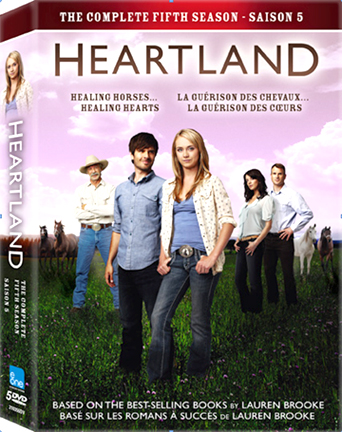 The sixth season of Heartland premiered last Sunday on CBC, but if you want to have Season 5 on DVD to enjoy again or you missed any episodes of the last season, you can get caught up because Heartland – The Complete Fifth Season just been released on Blu-ray and DVD. During the fifth season, Amy adopted a neighbor's dog and in the special features, Amber Marshall, who plays Amy, explains why it was decided that Heartland ranch had to have a canine co-star. Meanwhile, Amy's boyfriend Ty (Graham Wardle) is still studying to be a veterinarian and works at a vet clinic, but decides to move out of the loft so he can be more independent. He's left scrambling to pay his university tuition when someone mysteriously pays it for him, and when he finds out who, he's less than pleased.
Amy's dad Tim (Chris Potter) has problems of his own when he's denied access to his newly discovered 12-year-old son. He hires a lawyer to try to get full custody but at the same time, begins drinking again.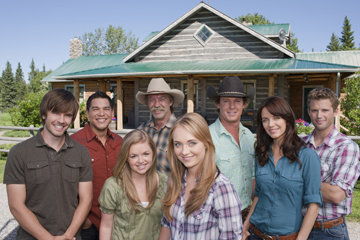 Lou (Michelle Morgan) hires Mallory (Jessica Amlee) as her babysitter, but when the girl finds a nannycam in the baby's teddy bear, she has to decide whether she wants to work for someone who doesn't trust her. Even worse for Mallory, her parents decide to move to Nashville for her father's career. He's a well-known country singer, but Mallory doesn't want to leave Hudson and tries to find a way to stay.
Amy gets the chance to learn about doing Liberty with horses. She's asked to audition for a Liberty horse show that tours all over the world, much to Ty's chagrin.
Heartland is one of the most popular shows ever made in Canada and as Amber explains in a special feature, it may be in part because of its beautiful scenery. Many shows are set in cities with dirty streets as a backdrop. Heartland offers beautiful vistas of plains, mountains and lakes in Alberta, as well as the Heartland ranch, which many tourists want to visit so they can be a part of what they've seen on television.
There are 50 minutes of special features, including a Season 5 Overview; Actors and Relationships featuring Amber, Graham, Jessica and Michelle talking about the characters they play; and Scenery as a Character. In Favorite Scenes, Amber, Graham and Jessica talk about what they enjoyed the most (Graham liked riding in the motorized bathtub); The Cliffhanger discusses the final episode and what happens, or doesn't happen, in it. In To the Viewers, the actors and producers give a shout out to the fans, while Jessica reveals what she likes about meeting fans. In Acting and Directing, the actors talk about working with a different director every episode and about being directed by co-star Chris Potter in several episodes. Other special features include Collaboration, Stunts and Animals, What's Next and Outtakes, which are a lot of fun and should be a must for every DVD.
Fans of this series will absolutely love this DVD set, which totals 810 minutes, is rated PG and retails for only $39.99. ~Alexandra Heilbron
5 stars out of 5.