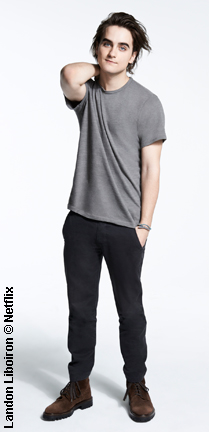 The Netflix original 2013 series Hemlock Grove revolves around Hemlock Grove, Pennsylvania, a community filled with secrets and a sharp contrast between the wealthy and those living in poverty. The town's wealth is mainly from the Godfrey Institute for Biomedical Technologies, run by the powerful Godfrey family.
Heir to the Godfrey family fortune is Roman (Bill Skarsgård), who befriends newcomer Peter Rumancek (Landon Liboiron), a Gypsy rumored to also be a werewolf. When townsfolk are murdered and eyes turn towards Peter, he and Roman team up to solve the murders and uncover the town's secrets. The series is directed by Eli Roth and written by Brian McGreevy and Lee Shipman.
Tribute caught up with actor Landon Liboiron to learn more about his Gypsy/werewolf character Peter Rumancek and to learn what to expect in Season Two, which debuts July 11, 2014.
What drew you to the script and the character of Peter?
It was really the world that Brian McGreevy created. He did a lot…he worked really really hard on going back into the deep mythology of what vampires and werewolves are and kind of really paid an ode to those old mentalities. I think he really felt that we as a generation have lost what made vampires really cool and what made werewolves a lot more vicious. It was really just the world he created and he had such an interesting voice. In regards to Peter, it was really the Gypsy culture that drew me to Peter because I don't think there's been a lot of the Gypsy culture portrayed on television in a positive manner. I thought that Brian did a really good job with that.
In five words or less, how would you describe Peter?
A wayfaring stranger.
You played a werewolf in The Howling: Reborn. Did you draw on that character for the role of Peter?
No, they were completely different things. I guess you could say The Howling was the more traditional portrayal of the werewolf on film where an everyday, average guy gets cursed with the beast. Whereas Peter's werewolf is…it was much more…as much as the Gypsy culture is a way of life, so is the werewolf thing. It wasn't so much a curse as it was a beautiful spirituality.
How much preparation and research did you do into the Gypsy background?
Brian actually gave me a lot of books. I read a lot of books on the culture. I was surprised at how many books had been written about Gypsies and how many Gypsies have written books about their lives and their inner circles. Another thing I though would be fun – I decided for the first season to drive from Vancouver to Toronto. I live in Vancouver and the show is shot in Toronto, so I thought I would hit the road, like a Gypsy would. I jumped in the car and I drove to Toronto.
Did that journey help you see through Peter's eyes?
It gave me a small adventure. It gave me a few times where I could camp. It was very off the cuff and it was nice to be upon the road.
Peter's silver pendant, is it a Gypsy pendant or does it have magical properties?
Yeah, a big part of the Gypsy culture is their jewelry. They love to kind of bedazzle themselves with all this kind of gold. The magic part of the Gypsy's jewelry is sort of like how a fortune teller will never tell her secrets, so you kind of have to leave it up to the viewer or the witness to choose whether or not it's magic. A lot of the times the ring or the jewelry Gypsies have are generations old, so it could have come from anywhere.
Where do you see Peter and Roman's relationship heading in Season Two?
At the beginning of season two Peter isn't in Hemlock Grove because at the end of Season One he left. And you see Peter trying to get as far from Hemlock Grove as he can. But his family gets into trouble and he's sort of forced and drawn back into Hemlock Grove. Peter and Roman are sort of enemies at the beginning of Season Two. They are definitely at odds with each other because of the past they have together now. And it takes some time before they realize that they need to get back together.
Season Two of Hemlock Grove begins July 11, 2014 on Netflix. Hemlock Grove Season One is now available on DVD and Blu-ray. ~ Andrea Hodgins