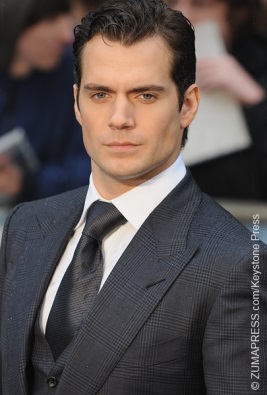 Henry Cavill will soon fly into theaters as Superman in Batman v Superman: Dawn of Justice, but for now the actor is being candid about his super salary.
For his cover story  on Man of the World's latest issue, he discusses his acting and the extravagant perks that come with stardom.
"I'm slightly wary of saying this because it can be frowned upon, certainly by members of my community and people outside my community … but I'm not just doing this for the art. The money's fantastic and that's something which I deem — and again, it is frowned upon — very important." He added, "People will be calling me a c**k as they're reading this, but travel's great as long as you're going first class."
The 32-year-old actor was quick to clarify that he isn't entirely self-indulgent with his earnings. By portraying characters like Clark Kent, he's able to spread the wealth.
Handsome Henry says his top dollar goes towards "lavish holidays" for himself and his friends. Apparently, superheroes enjoy company.
He adds, "Spending money on my friends, buying dinner for everyone, drinks for everyone, it's a nice place to be, and I like people to feel cared for."
It's not just people he wants cared for, either.
Henry is a spokesperson for the Durrell Wildlife Conservation Trust, which seeks to save species on the brink of extinction.
He can be seen here in a viral video that officially kick-started a charity contest with proceeds going towards the Durrell Wildlife Park. The video also served as a cute and clever promotional tool for Batman v Superman: Dawn of Justice, with Henry chatting to children about their superhero preferences.
In 2014, Henry also launched the Cavill Conservation to help generate money for the Durrell Wildlife Conservation Trust.
Henry has been vocal about his view on money before. In 2012, GQ quoted him as saying, among other things, "God, all those people who say, 'Oh no, the money doesn't matter.' Yeah, right. They're either mad, or they're lying. I mean, come on. 'Oh no, don't pay me anything, it's for the arts.' I'm sorry, no. Pay me the money. I'm not doing it for charity. I'm not a non-profit organization."
Charity or not, Henry can expect a colossal cash flow when he faces off against Ben Affleck in Batman v Superman: Dawn of Justice, which hits theaters on March 25, 2016.
~Matthew Pariselli