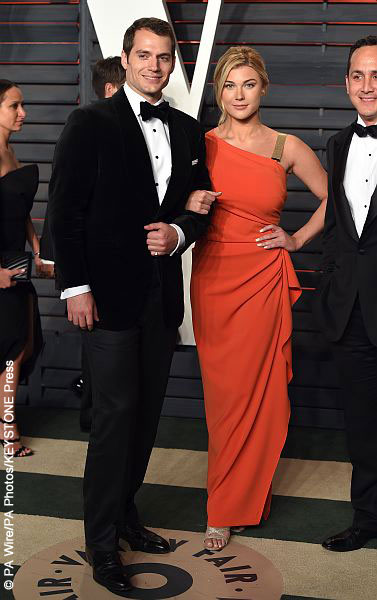 Another over-30 actor is dating a barely legal blonde, and no, it's not Leonardo DiCaprio.
At the Vanity Fair Oscars afterparty on Sunday, 32-year-old Henry Cavill arrived on the red carpet with his 19-year-old girlfriend, Tara King.
The Batman v Superman: Dawn of Justice star has reportedly been dating the college student since last year. The couple made their first public appearance together back in October at a rugby match at Twickenham Stadium in London, but haven't made it official to the media until this past weekend's festivities.
According to the Daily Mail, King is originally from London and is currently enrolled at Bristol University studying art history. The two reportedly met at the London nightclub Mahiki in August.
Henry recently opened up to Elle UK about that first meeting, revealing, "When I first met my girlfriend, I was super intimidated. I wanted to impress her. I was thinking, 'Don't mess this up, man. You've gotta play your cards exactly right.'"
The former Tudors actor also said that their 13-year age difference is a non-issue, "People say, 'Age is just a number.' A lot of times it's not just a number. It's actually a real and true sign of someone's maturity, but in this case, she's fantastic."
"It's a natural reaction," he said, regarding the shock directed towards their unorthodox relationship. "But when I was 19, I was going out with a 32-year-old."
~Shelby Morton