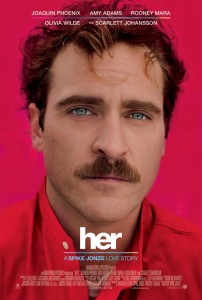 "Falling in love is a crazy thing to do. It's like a socially acceptable form of insanity," notes a character in Spike Jonze's Her. This science-fiction film beautifully portrays the emotional and sensitive journey of a quirky, heartbroken man who falls in love with his operating system. The movie begins in a not-too-distant future in Los Angeles. Writer Theodore (Joaquin Phoenix) works at a company composing heartwarming handwritten letters for people who are unable to express their feelings on paper. It soon becomes clear that Theodore is a lonely man silently suffering the breakup of his marriage. To distract himself, he buys an interactive operating system called OS1.
The OS, who calls herself Samantha (Scarlett Johansson), is linked to a pocket-size tablet and earpiece and she is tasked to help Theodore organize his life and work, as well as offer suggestions when needed. Witty and charming, Samantha amuses Theodore with her extraordinary ability to process information and learn new things. Her non-human perspective intrigues Theodore and he falls deeply in love with Samantha and she with him. But given the situation, it doesn't come without a set of challenges.
The film is deeply moving and certainly contains Joaquin Phoenix and Scarlett Johansson's best performances to date. Director Spike Jones has created a masterpiece, and everyone who has ever loved someone will be able to relate to the film. At nearly every point you'll find yourself smiling at the odd couple's quirks or shedding a tear during their tough times. Such is the power of this Oscar-nominated film.
Joaquin, quite masterfully, portrays each emotion with such sincerity that you miss his character after the film ends. Scarlett makes her presence felt through her strong vocal role. She was able to deliver every emotion with her voice alone and it made their relationship believable. Together, the duo delivered a love story that is just as good, if not better, than the romantic classics. The film will leave you smiling… and with a tear or two.
Special features include A Short Film by Lance Bangs, Love in the Modern Age and How do you share your life with somebody. Other films releasing on Blu-ray/DVD this week are That Awkward Moment, I, Frankenstein and Stalingrad. For a full list of this week's home releases, click here. ~Marriska Fernandes