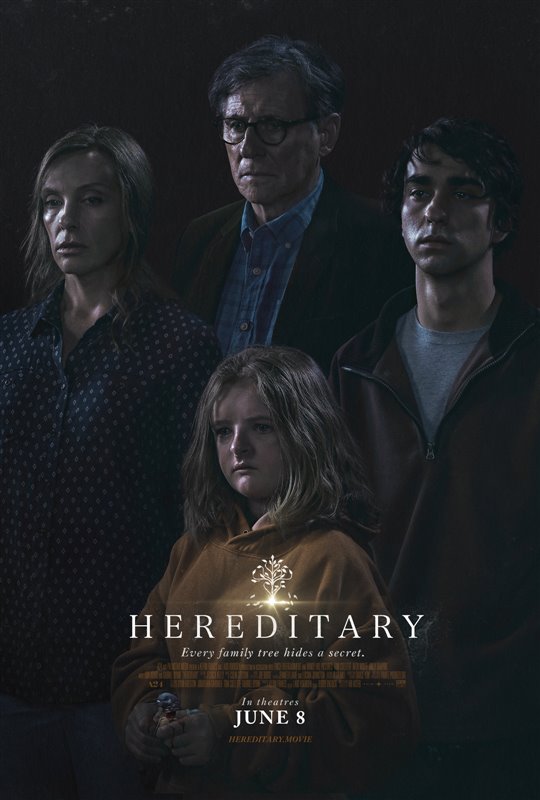 As a fan of more mainstream horror films, I have always resorted to the classic The Exorcist, Saw, The Conjuring, etc., and these films will always remain among my favorites.
But, I can say without a doubt, that Hereditary is one terrifying, ultimately satisfying, horror film. It should be noted that it's not your mainstream scary horror movie, but an indie film that hits you psychologically, and has a few spine-chilling moments that leave you with an unsettling feeling.
The story opens with a funeral. Annie Graham's (Toni Collette) mother, Ellen, has just died. Annie is genuinely surprised by the turnout at the funeral.
She and her mother didn't get along, and let's just say Annie was left with a box full of secrets (quite literally). Annie is married to Steven (Gabriel Byrne), and they have two children: Charlie (Milly Shapiro), an awkward, shy girl and a son, Peter (Alex Wolff), a high school kid who is always high.
Sneaking away to a grief counseling session, Annie reveals her family's troubling past. She didn't get along with her mother, who had dissociative identity disorder. Her father suffered from psychotic depression and starved himself to death, and her brother was a schizophrenic who hanged himself. This aligns with the film's title and the theme that runs throughout the movie — is the Graham family's mental illness hereditary or is there something sinister haunting them?
While Annie didn't let her mother close to her firstborn child Peter, she let her daughter Charlie bond with her. The fact that Charlie hangs out alone, uses decapitated animals for her artwork and draws unsettling images, already had me terrified of the kid. Odd events start happening and it all revolves around Charlie. Then a shocking incident involving Charlie unleashes a series of events that haunts the Graham family.
The film starts off at a very slow pace, aiming to make you uncomfortable, quite successfully. Seasoned horror fans may not be used to this slow pace, but fret not, the pace picks up after a while and you'll be holding on to your seat for dear life. It's not just the jump scares and creepy moments that scare the sh** out of you. It's the psychological nature of the film that makes it so unsettling, and so, so worth it.
This film will appeal to horror lovers who prefer gory horror movies, as well as those who flock to indie films like The Witch. There's also some pretty graphic and disturbing images that will scar you, but that's exactly why you're going to go see it, right?
Ari Aster, who wrote the screenplay, makes his directorial debut with this film and suffice to say, he's now a horror hero. The way the camera wanders around the house, it's as if we're looking through the eyes of a supernatural entity, making the nightmare seem all the more real, backed by the haunting score.
Due credit for this movie's success goes to the impressive cast. Toni Collette conveys grief, anger and terror in just one scene alone and we're immediately captivated by her presence. The fact that we question whether she's just being human, given the traumatic events she endured, or possessed, is a testament to her masterful work.
Remembering Milly Shapiro's unsettling performance in this film still makes my skin crawl. She was instilling fear like no other actor in the cast, and for that I applaud her. Alex Wolff is at first overshadowed by Milly and Toni, and then he steals the show. There are two main scenes in which he, without any dialogue, delivers shock value.
Hereditary haunts with originality, captivating and taunting you with puzzle pieces, and leaving you to question your sanity as you piece the film together. It's a true horror fan's dream nightmare and I would definitely recommend it. ~Marriska Fernandes
If you have seen the film and would like to give your two cents, click here.