Here's what's New on Netflix Canada – September 2020
By Marriska Fernandes on August 26, 2020 | 2 Comments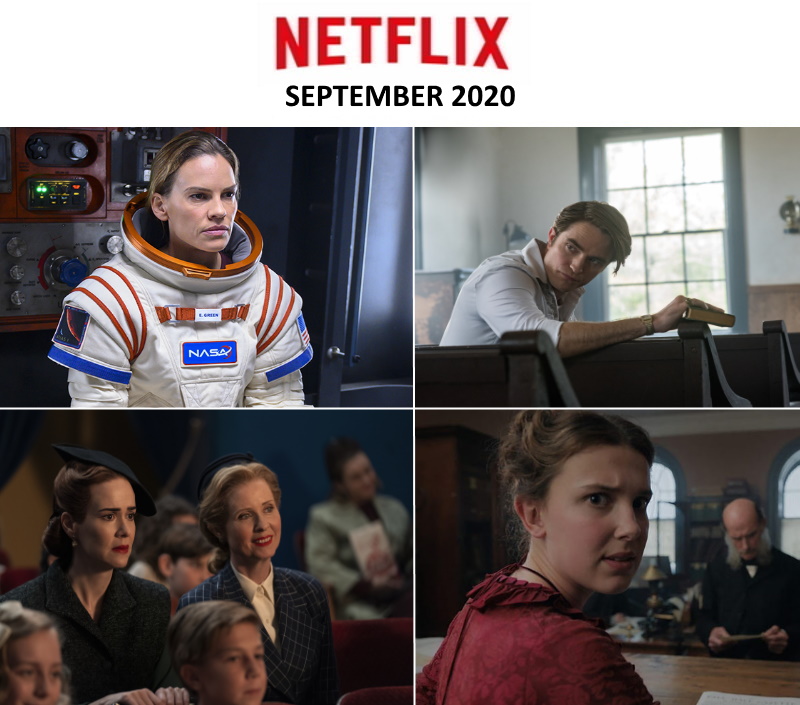 New on Netflix September 2020 Slate
As we move into fall, we can expect less summer rom-coms, and more action, drama and psychological films and series to keep you entertained while you're safely working from home. From Ryan Murphy's new series to Robert Pattinson's latest feature film to Hilary Swank's mission to Mars series, the September slate looks promising. Here's your New on Netflix September guide!
Originals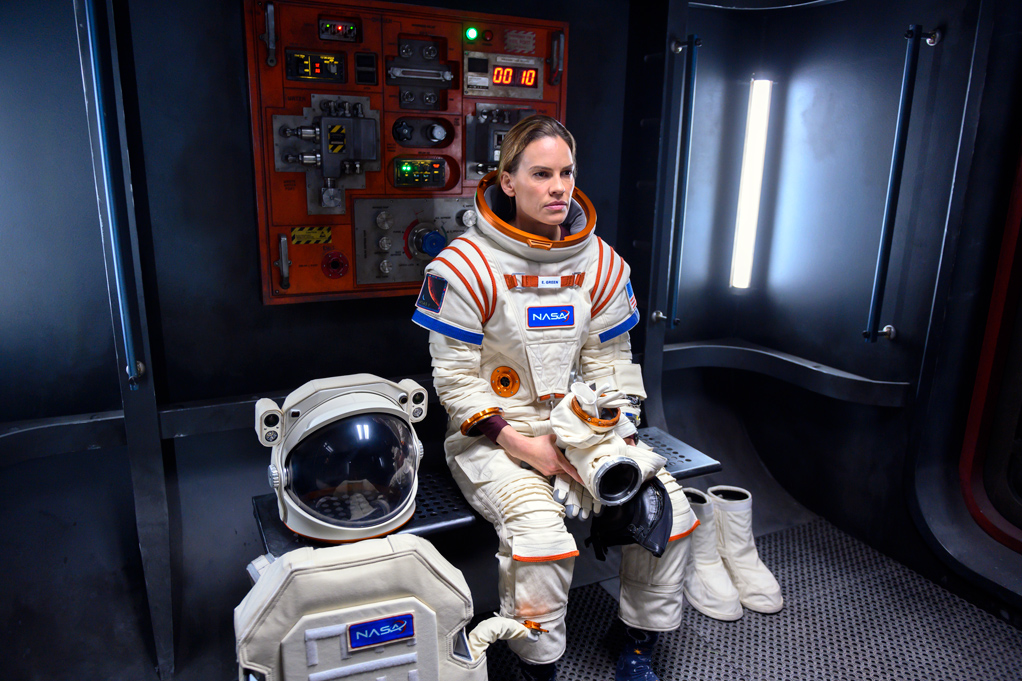 She's an American astronaut, but she also struggles with leaving her husband and daughter behind to embark on a dangerous mission with an international space crew. Hilary Swank takes viewers on an intense journey in the series, Away (Sept. 4).
An unsettling new Charlie Kaufman movie also comes to the streamer this month, titled I'm Thinking of Ending Things (Sept. 4). Nothing is as it seems when a woman experiencing misgivings about her new boyfriend joins him on a road trip to meet his parents at their remote farm.
A new star-studded psychological thriller The Devil All The Time (Sept. 16) is an explosive Midwestern Gothic tale spanning two decades that revolves around a group of people whose lives all intersect. The film stars Tom Holland, Robert Pattinson, Bill Skarsgård and Haley Bennett.
Ryan Murphy is ready to roll out another one of his creations on Netflix. Ratched (Sept. 18) is a dramatic prequel to One Flew Over the Cuckoo's Nest, which follows the infamous character Nurse Ratched (Sarah Paulson) as she begins work at a psychiatric hospital.
Sherlock Holmes' teen sister comes to the rescue in Enola Holmes (Sept. 23). When Enola Holmes (Millie Bobby Brown) discovers her mother is missing, she sets off to find her while outwitting her famous brother and unraveling a dangerous conspiracy.
Is love ever guaranteed? Well, depends who you ask. In the new Netflix film Love, Guaranteed (Sept. 3), a dating website guarantees love, so Nick (Damon Wayans Jr.) sues the site for failure to meet their guarantee. Small law firm owner and lawyer Susan (Rachael Leigh Cook) takes on his case.
Have you seen The Babysitter, which premiered on Netflix two years ago? Now there's a sequel. The Babysitter: Killer Queen (Sept. 10) takes place two years after Cole defeated a satanic cult led by his babysitter Bee. He has to forget his past and focus on surviving high school, until old enemies return.
Just for Laughs
How to Lose a Guy in 10 Days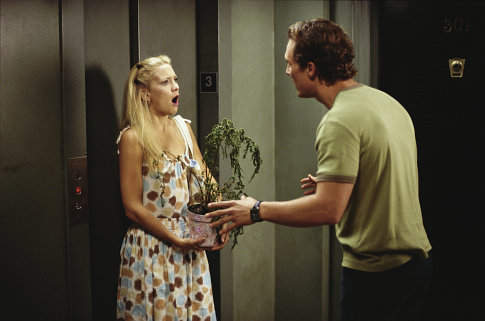 (Sept. 1), a rom-com we love is also back on Netflix! Does a faux relationship based on deception stand a chance in a world where everyone says they're looking for honesty? Kate Hudson and Matthew McConaughey make this a rom-com to remember.
Bewitched (Sept. 1), the 2005 big-screen reboot of the popular 1960s TV series, stars Nicole Kidman as a naive, good-natured witch who's determined to give up her supernatural powers and lead a "normal" life, when she meets Jack Wyatt (Will Ferrell), an actor trying to get his career back on track. Aren't we all looking for a "normal" life now? This one is a comedy we'd love to watch again.
For more of Will Ferrell, how about Daddy's Home (Sept. 1)? Mark Wahlberg and Will compete for their kids' affection in this hilarious comedy.
Our Picks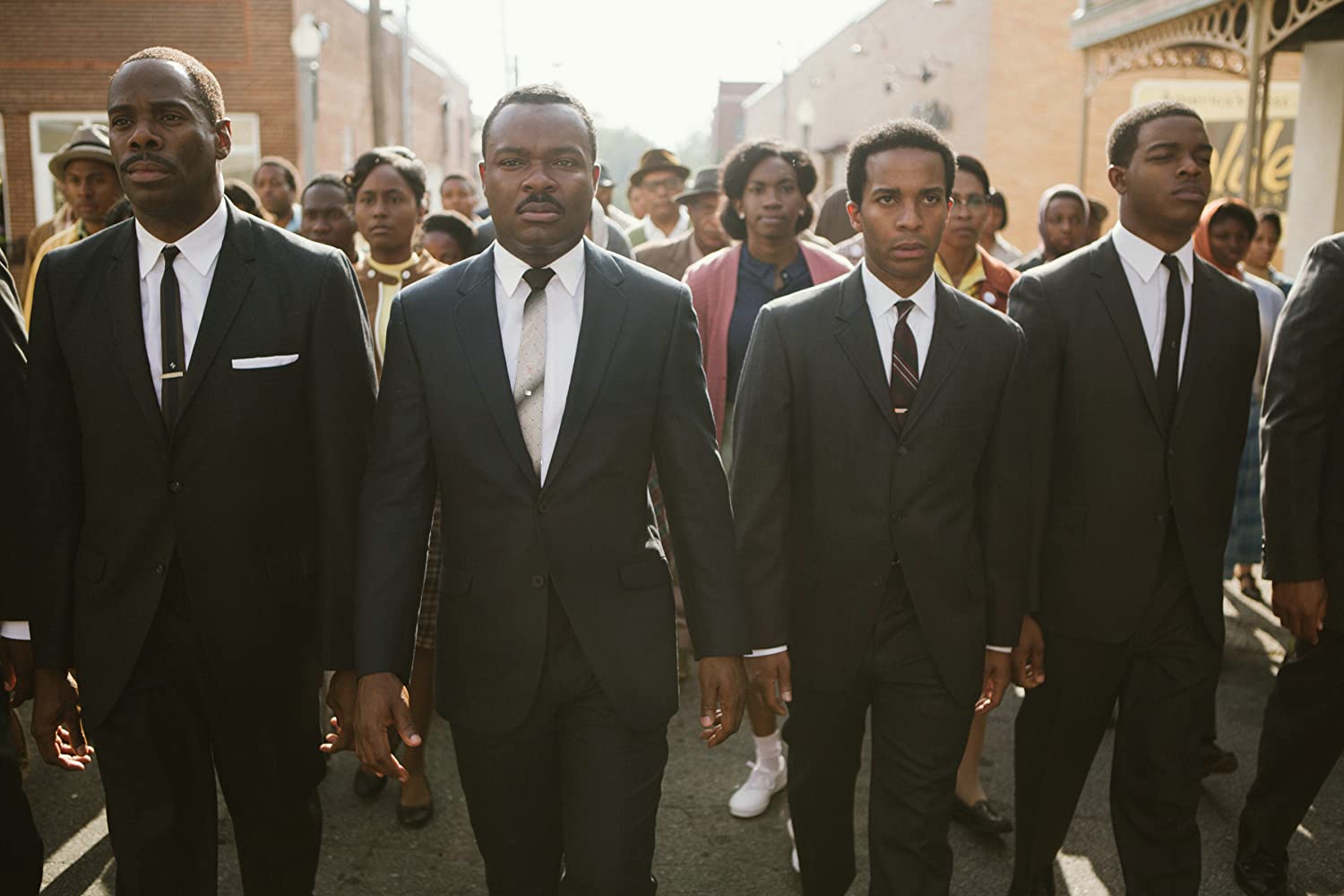 Ava DuVernay's Oscar-nominated film Selma (Sept. 1) is a must-watch. It's the story of Dr. Martin Luther King Jr.'s (David Oyelowo) historic struggle to secure voting rights for all people. It's an important film and one that educates, especially now as the Black Lives Matter movement gains momentum.
Oscar-nominated film Fences (Sept. 1) is another one we recommend. The film earned Denzel Washington a Best Actor Oscar nomination, while Viola Davis won the Oscar for Best Supporting Actress. Based on August Wilson's Pulitzer Prize and Tony Award-winning play, Fences follows the life of a working-class African-American family in the 1950s.
We highly recommend Captain Phillips (Sept. 1). It's based on the true story of Captain Richard Phillips and the 2009 hijacking of the U.S. container ship Maersk Alabama, the first American cargo ship to be hijacked by pirates in two hundred years. Tom Hanks and Barkhad Abdi gave award-winning performances — the film is one to watch.
Steven Spielberg earned an Oscar for Saving Private Ryan (Sept. 1), which also stars Tom Hanks. Amid the chaos and terror of those days in early June 1944, this remarkable story searches to find decency in the sheer madness of war.
Franchise
For those who'd prefer to binge-watch an entire collection of franchise films, there's the Bourne Identity series (Sept. 2): The Bourne Identity, The Bourne Legacy, The Bourne Supremacy and The Bourne Ultimatum. Also, fans will be happy to know that starting September 1, they can watch The Godfather and The Godfather: Part II.
For a more in-depth look at the originals hitting Netflix this September, click here to scroll through our What's New on Netflix September 2020 photo gallery.
Have a safe and streaming September! ~Marriska Fernandes
See below for everything coming to Netflix this month and continue scrolling for what's leaving as well.
Sept. 1
Bookmarks: Celebrating Black Voices – Netflix Family
The Boss Baby: Get That Baby! – Netflix Family
Felipe Esparza: Bad Decisions – Netflix Comedy Special
La Partita / The Match – Netflix Film
3:10 to Yuma
American Psycho
Bewitched
Blade Runner: The Final Cut
Blades of Glory
Captain Phillips
Daddy's Home
Dinner for Schmucks
Family Guy: Season 18
Fences
The First Purge
Four Brothers
The Godfather
The Godfather: Part II
Ghost in the Shell
Hairspray
How to Lose a Guy in 10 Days
I Am Legend
Jurassic World: Fallen Kingdom
Lemony Snicket's A Series of Unfortunate Events
The Next Karate Kid
Old School
Saturday Night Fever
Saving Private Ryan
School of Rock
Selma
Skyscraper
Sept. 2
Bad Boy Billionaires: India – Netflix Documentary
Chef's Table: BBQ – Netflix Documentary
Freaks – You're One of Us – Netflix Film
Captain Fantastic
Dumb and Dumber To
Fear and Loathing in Las Vegas
The Bourne Identity
The Bourne Legacy
The Bourne Supremacy
The Bourne Ultimatum
Jaws 1, 2 and 3
Jaws: The Revenge
Lucy
Murdoch Mysteries: Season 13
Venom
Sept. 3
Afonso Padilha: Alma de Pobre – Netflix Comedy Special
Love, Guaranteed – Netflix Film
Young Wallander – Netflix Original
Sept. 4
Away – Netflix Original
The Blacklist: Season 7
I'm Thinking of Ending Things – Netflix Film
Spirit Riding Free: Riding Academy: Part 2 – Netflix Family
Sept. 5
Step Up: All In
Sept. 7
My Octopus Teacher – Netflix Documentary
Record of Youth – Netflix Original
Sept. 8
A Star Is Born
StarBeam: Season 2 – Netflix Family
Sept. 9
Corazón loco / So Much Love to Give – Netflix Film
Get Organized with The Home Edit – Netflix Original
La Línea: Shadow of Narco – Netflix Documentary
Mignonnes / Cuties – Netflix Film
The Social Dilemma – Netflix Documentary
Sept. 10
The Babysitter: Killer Queen – Netflix Film
The Gift: Season 2 – Netflix Original
Greenleaf: Season 5
The Idhun Chronicles – Netflix Anime
Julie and the Phantoms – Netflix Family
Sept. 11
The Duchess – Netflix Original
Family Business: Season 2 – Netflix Original
Interstellar
Pets United – Netflix Family
Se busca papá / Dad Wanted – Netflix Film
Sept. 12
Zumbo's Just Desserts: Season 2
Sept. 14
Close Enough – Netflix Original
Sept. 15
17 Again
Ancient Aliens: Season 3
Beyond Scared Straight: Season 4
Hope Frozen: A Quest to Live Twice – Netflix Documentary
Intervention: Season 6
Izzy's Koala World – Netflix Family
Michael McIntyre: Showman – Netflix Comedy Special
Taco Chronicles: Volume 2 – Netflix Original
Sept. 16
Baby: Season 3 – Netflix Original
Challenger: The Final Flight – Netflix Documentary
Criminal: UK: Season 2 – Netflix Original
The Devil All The Time – Netflix Film
MeatEater: Season 9 – Netflix Original
The Paramedic – Netflix Film
Signs: Season 2 – Netflix Original
Sing On! – Netflix Original
Sept. 17
Dragon's Dogma – Netflix Anime
The Last Word – Netflix Original
Sept. 18
American Barbecue Showdown – Netflix Original
Jurassic World Camp Cretaceous – Netflix Family
Ratched – Netflix Original
Sept. 21
A Love Song for Latasha – Netflix Documentary
Sept. 22
Chico Bon Bon: Monkey with a Tool Belt: Season 3 – Netflix Family
Jack Whitehall: Travels with My Father: Season 4 – Netflix Original
The Playbook – Netflix Documentary
Mighty Express – Netflix Family
Sept. 23
Enola Holmes – Netflix Film
No Strings Attached
Teenage Mutant Ninja Turtles
Sept. 24
The Chef Show: Season 2 – Netflix Documentary
This Is Us: Season 4
Sept. 25
A Perfect Crime – Netflix Documentary
Country-Ish – Netflix Original
Modern Family: Season 11
The School Nurse Files – Netflix Original
Sneakerheads – Netflix Original
Sept. 26
The Good Place: Season 4
Sept. 28
Whose Vote Counts, Explained – Netflix Original
Sept. 29
Michelle Buteau: Welcome to Buteaupia – Netflix Comedy Special
Sept. 30
American Murder: The Family Next Door – Netflix Documentary
Dear John
Hansel & Gretel: Witch Hunters
Mamma Mia! Here We Go Again
Mission: Impossible – Ghost Protocol
LAST CALL
Leaving Sept. 2
Ready Player One
Leaving Sept. 5
Once Upon a Time: Seasons 1-7
Leaving Sept. 14
Clueless
Leaving Sept. 30
Ghostbusters
Ghostbusters 2
Inglourious Basterds
Pulp Fiction
---
---
---
---
Similar Articles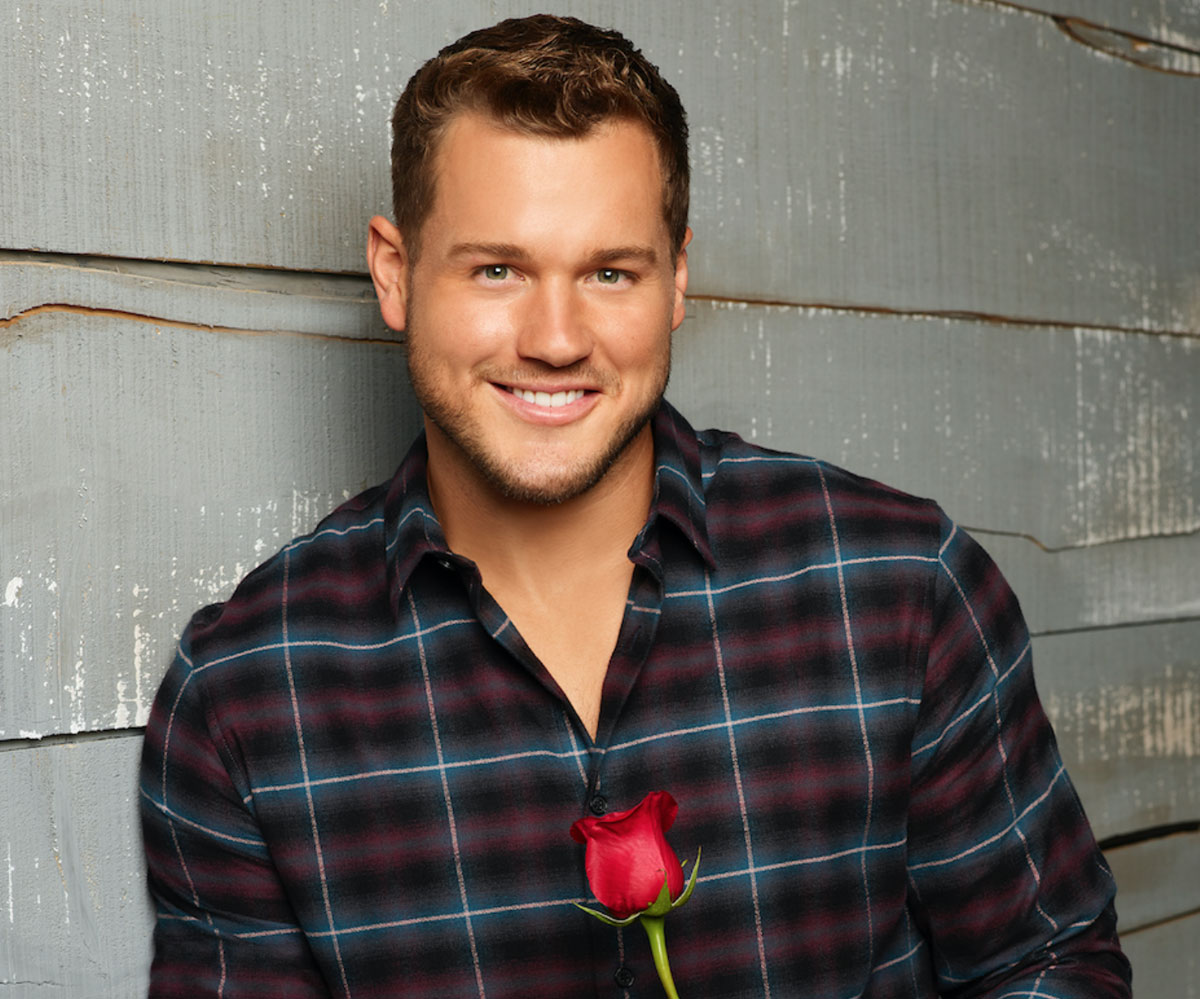 April 14, 2021 | 3 Comments
Bachelor alum Colton Underwood has confirmed rumors that he's gay. He is now working on a new Netflix series that will surround his life as a gay man.
---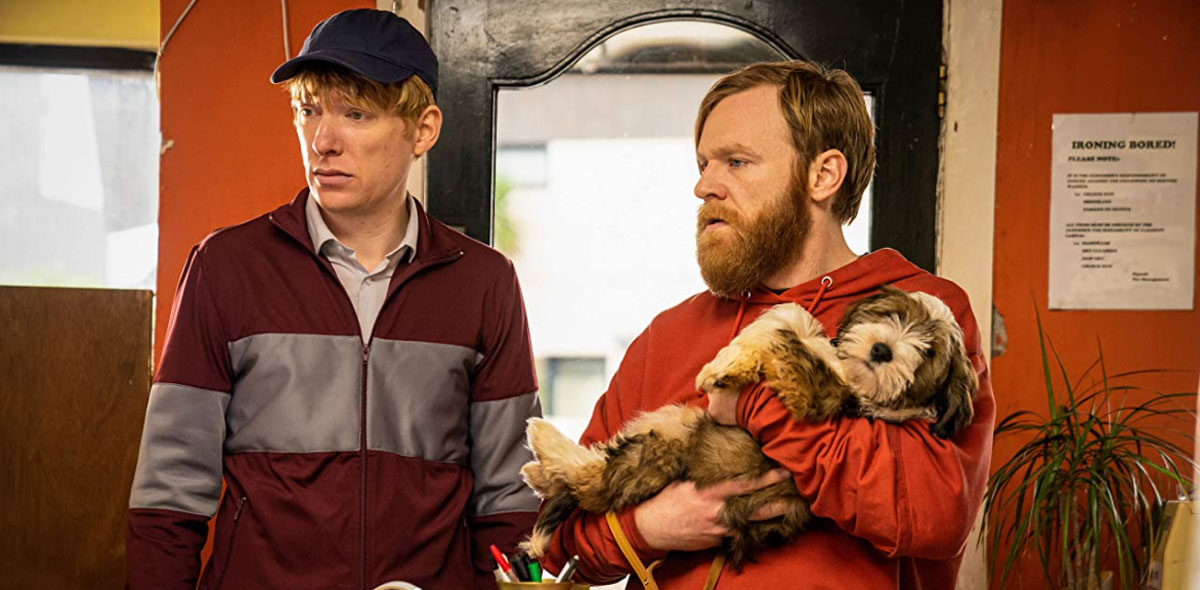 April 12, 2021 | Leave a Comment
Check out the new DVDs, Blu-rays and streaming shows coming out this week, including two new Amazon Prime comedy series: Frank of Ireland and Made for Love.
---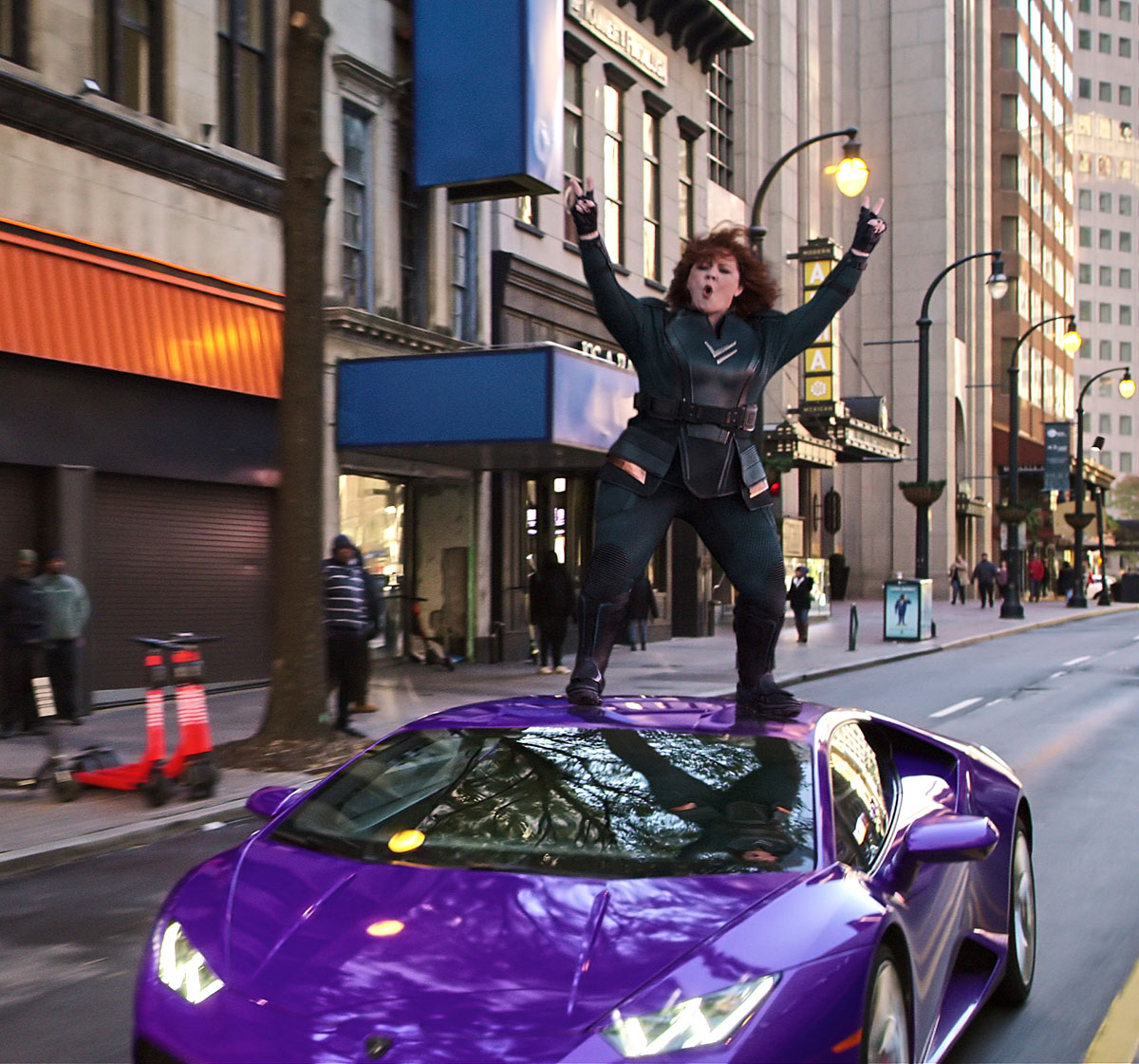 April 5, 2021 | 2 Comments
Check out the new DVDs, Blu-rays and streaming shows coming out this week, including Thunder Force starring Octavia Spencer and Melissa McCarthy on Netflix.
---