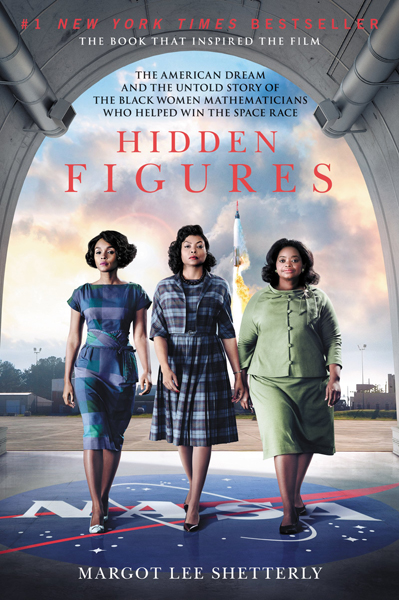 During a time when black Americans were struggling for equal rights and women were trying to be heard, there were a number of highly intelligent, extremely well-educated black women who worked for NASA (then known as NACA – National Advisory Committee for Aeronautics).
Although they were first hired as "computers" — a term we use for machines now, but at that time it referred to people who could work out complex mathematical formulas — some of these mathematicians went on to become engineers and scientists.
Hidden Figures tells the stories of these women, starting in 1943 during the second World War. Although a critically acclaimed, Oscar-nominated film of the same name was based on the book, starring Taraji P. Henson, Octavia Spencer and Janelle Monáe, the book goes into much more detail and tells the stories of not only Katherine Johnson, Dorothy Vaughn and Mary Jackson, but also Christine Darden (who was born later than the other three and didn't fit into the timeline of the movie).
These women, and many others who are discussed and/or mentioned in the book, often had advanced university degrees, rivaling and sometimes surpassing those of their male colleagues.
Author Margot Lee Shetterly gives the book a personal touch. Her father was a climate scientist at NASA and as a child, she knew many African-Americans working in fields such as science, math and engineering. She says in the book: "I thought that's just what black folks did."
The book focuses on the women, beginning in WWII when complex calculations were needed to get planes off the ground and into the air to defeat Hitler's Nazi regime.
Later, they were instrumental in the U.S. space program as the government struggled to catch up with Russian efforts to get into space.
The book not only tells the story of the Space Race — which is the focus of the movie — but gives an inside look at the lives of African-Americans in the early 1900s as they struggled with segregation, which led to the Civil Rights movement.
The movie deserved all the acclaim and praise it received, but it only tells part of the story. If you were intrigued by the movie, you'll want to pick up a copy of the book Hidden Figures to get the full story of these inspirational women who paved the way for not only black Americans, but all women in the work force. ~Alexandra Heilbron