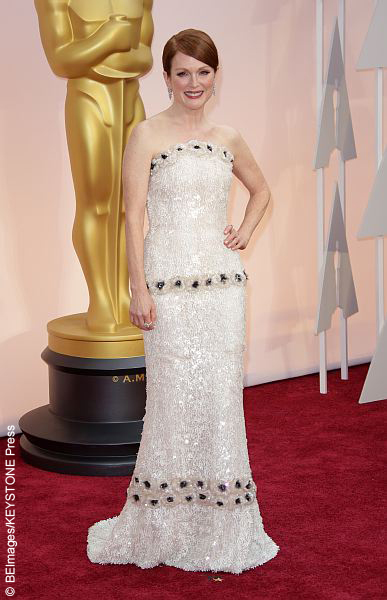 Hosted by Neil Patrick Harris, the 87th Academy Awards got off to a great start with Neil's opening song to honor the nominated films, during which he was aided by the amazingly talented Anna Kendrick.
His jokes were sometimes a miss, but mostly a hit, especially when he recreated the scene from Birdman in which Michael Keaton gets locked out of the theatre in his underwear. Neil received well-deserved laughs as he announced, still in his white briefs, "Acting in a noble profession." It was an added bonus that he stopped on his way to the stage to tell Miles Teller, who played an aspiring drummer in Whiplash: "Not my tempo."
The audience also roared with laughter when Neil said, "Benedict Cumberbatch. It's not only the most awesome name in showbusiness, but it's also the sound you get when you ask John Travolta to pronounce Ben Affleck." He then introduced Idina Menzel, whose name John butchered at last year's Oscars.
Idina asked the audience to welcome her "very dear friend, Glom Gazingo." John joined her on stage, saying, "I deserve that." He went on to pronounce Idina's name correctly, then turned to the audience and asked, "Is that right?" He let Idina read not only the nominees but the winner of the Best Original Song, "Glory" (from the movie Selma).
The most entertaining musical performance of the night was "Everything is Awesome" from The LEGO movie, energetically performed by Tegan and Sara with the musical comedy trio The Lonely Island as LEGO Oscar statuettes were handed out to select audience members. The performance had A-listers such as Channing Tatum, Bradley Cooper and Eddie Redmayne applauding enthusiastically.
The first award of the night was for Best Supporting Actor, presented by Lupita N'yongo. It was no surprise when it went to J.K. Simmons for his role as an outrageously abusive music teacher in Whiplash. In fact, there were no surprises in the acting categories. As expected, Best Actor went to Eddie Redmayne for his incredible performance as scientist Stephen Hawking in the biopic The Theory of Everything. Julianne Moore (pictured) won Best Actress for her role as a woman who is diagnosed with Alzheimer's in Still Alice and Patricia Arquette won Best Supporting Actress for her role as a single mother in Boyhood.
Birdman, directed by the talented Alejandro Gonzalez Inarritu, was the well-deserved big winner of the night, going home with Best Picture, Best Director, Best Original Screenplay and Best Cinematography. The film tells the story of an actor, famous for portraying an iconic movie superhero, as he struggles to put on a Broadway play.
Also winning four awards was The Grand Budapest Hotel. The film received Oscars for Original Score, Best Costume Design, Best Production Design and Best Makeup and Hairstyling.
One welcome surprise was when Big Hero 6 took the Best Animation Oscar away from How to Train Your Dragon 2, which was expected to win, having taken home the Golden Globe in the same category. Finally, it was surprising that Boyhood, which received six nods and won Golden Globes for Best Director and Best Motion Picture (Drama), won only Best Supporting Actress. The film had garnered rave reviews and accolades for director Richard Linklater, who made the film over a span of 12 years. ~Alexandra Heilbron
Full List of Winners: 
Best Picture
Birdman
Best Actor
Eddie Redmayne (The Theory of Everything)
Best Actress
Julianne Moore (Still Alice)
Best Supporting Actor
J.K. Simmons (Whiplash)
Best Supporting Actress
Patricia Arquette (Boyhood)
Directing
Alejandro González Iñárritu (Birdman)
Cinematography
Birdman
Costume Design
The Grand Budapest Hotel
Makeup and Hairstyling
The Grand Budapest Hotel
Foreign Language Film
Ida
Original Score
The Grand Budapest Hotel
Adapted Screenplay
Graham Moore (The Imitation Game)
Original Screenplay
Alejandro G. Iñárritu, Nicolás Giacobone, Alexander Dinelaris, Armando Bo (Birdman)
Animated Feature Film
Big Hero 6
Documentary Feature
CitizenFour
Documentary Short Subject
Crisis Hotline: Veterans Press 1
Film Editing
Whiplash

Original Song
Selma (Glory)
Production Design
The Grand Budapest Hotel
Animated Short Film
Feast
Live Action Short Film
The Phone Call
Sound Editing
American Sniper
Sound Mixing
Whiplash
Visual Effects
Interstellar